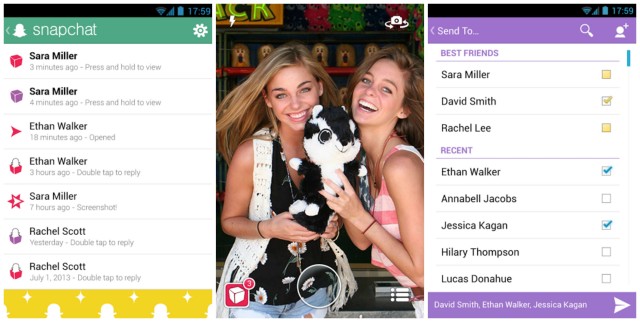 It seems Snapchat is the latest victim in what is becoming a long line of apps and services experiencing security breaches and compromises, though it's a little confusing just how or where it happened. What we do know is that a 13GB database of private user photographs is circulating around the Internet (which translates into as many as 200,000 images now public in 4chan and other forums). They could have come directly from the Snapchat client Snapsave, or from SnapSaved.com, both options allowing users to save the photos and videos they view.
So far, Snapchat is denying they have anything to do with it:
"We can confirm that Snapchat's servers were never breached and were not the source of these leaks. Snapchatters were victimized by their use of third-party apps to send and receive Snaps, a practice that we expressly prohibit in our Terms of Use precisely because they compromise our users' security. We vigilantly monitor the App Store and Google Play for illegal third-party apps and have succeeded in getting many of these removed."
There is a saying somewhere about pointing fingers at others resulting in them being pointed back at you… but it could be the truth as well. Either way, reading about these security breeches should teach you one very important lesson: don't take photographs of things you wouldn't like other people to see. As you can imagine, it isn't the photographs of what you had for supper that people are looking to peek at.
Snapchat tries to help maintain a user's privacy by alerting the sender if the recipient takes a screenshot of their photo, but many third-party apps can circumvent this feature; and while they actively search for and report these apps, it is near impossible for them to keep up.
Jillian Koskie is an experienced software developer, content writer, project manager and usability design expert. With over 17 years in these roles, Jillian has enjoyed applying her skill-set to assist clients and users across a wide variety of sectors including: legal, health, and financial services. Combining these professional opportunities with a love of technology, Jillian is pleased to contribute articles, opinions, and advice to numerous news outlets, websites, and publications.