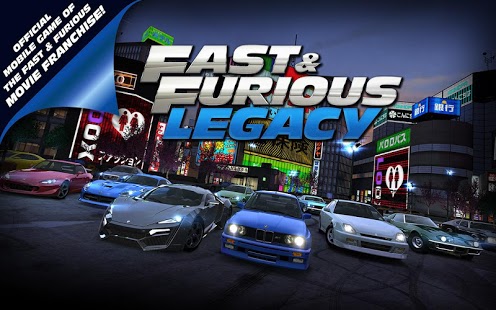 The promise of a solid race-themed game has been known to motivate the purchase of entire console gaming systems –so the release of a quality title for mobile should be heard as very good news by fans of the genre. Fast & Furious: Legacy covers all seven titles in the film franchise, providing a true journey through the street racing experience.
There aren't many surprises with this game, but that shouldn't be seen as a bad thing. In a world that is all about the hottest car models and the thrill of speeding, just being able to participate using a mobile device (in stunning HD) is exciting!
Start with the basics, and spend time customizing your ride (with 'the hottest paint, vinyls, rims, and more'), unlock extras (like nitrous upgrades), and explore locations based on the movies (from Los Angeles to Miami and beyond); the more you play, the more sophisticated things will become. Run your own crew, battle against others, and find your way to the top of the leaderboards.
You can grab Fast & Furious Legacy for free now for your Android device (but have no fear, you will have plenty of opportunities to spend money in-app with this game).
Jillian Koskie is an experienced software developer, content writer, project manager and usability design expert. With over 17 years in these roles, Jillian has enjoyed applying her skill-set to assist clients and users across a wide variety of sectors including: legal, health, and financial services. Combining these professional opportunities with a love of technology, Jillian is pleased to contribute articles, opinions, and advice to numerous news outlets, websites, and publications.