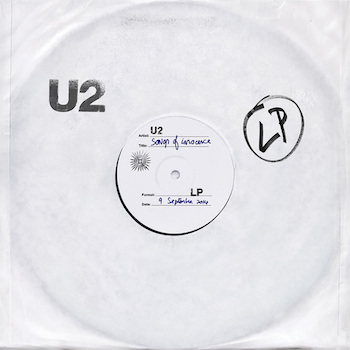 Okay, it's official –Apple not only knows how to generate hype for one of their signature product release events, they also know how to close out a keynote address: with a performance by a legendary rock band and the release of a major studio album… for free. As long as you are an iTunes subscriber (or become one), U2's new album is ready and waiting for you to download. Titled 'Songs of Innocence', lead singer Bono claims that this is the group's most personal collection to date.
If you were watching the keynote address live, your ears were already treated to a track from the album. If you missed it, there is little excuse not to grab your copy right now (I already have it downloaded into my collection, proving that the magic 'make it free button' that Tim Cook pressed on stage really did work)!
While it may have played out in an awkward and goofy way on stage, the release of music in this manner really punctuates the significance of online music services like iTunes –and I am very interested to see the statistics surrounding how many downloads and track-plays this schtick results in.
Jillian Koskie is an experienced software developer, content writer, project manager and usability design expert. With over 17 years in these roles, Jillian has enjoyed applying her skill-set to assist clients and users across a wide variety of sectors including: legal, health, and financial services. Combining these professional opportunities with a love of technology, Jillian is pleased to contribute articles, opinions, and advice to numerous news outlets, websites, and publications.