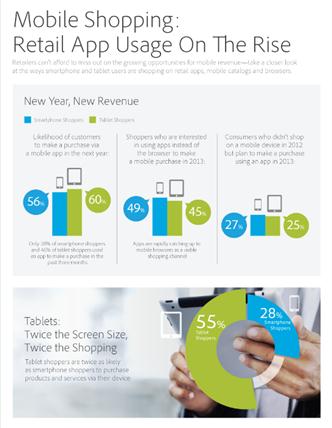 While Adobe's InDesign platform has made it possible to create full-color, high-resolution digital editions of some of the most popular and well-known magazines on the market, the DPS team also uses the platform to help retailers bring the same standard to their sales catalogs. In order to help retailers feel confident in the effectiveness of their digital catalogs, Adobe spent a good deal of time compiling the data from its recent survey on the shopping habits of consumers who use mobile devices while making their buying decisions.
The survey found that tablet users were more likely to purchase items than smartphone shoppers, as opposed to simply using the device to browse a digital catalog or retail website. Fifty-five percent of tablet users actually make purchases on the device, as opposed to only 28% of consumers who browse with their smartphone. However, more than half of btoh smartphone and tablet users say they are likely to make a purchase within a retail app in the coming year. Not quite half of both groups–45% for tablet users and 49% for smartphone users–said they would be interested in in-app shopping, as opposed to using their mobile device to access a browser-based website for shopping.
GoodeReader spoke with Dave Dickson, Senior Product Marketing Manager for Adobe, about this data and how it relates to both retailers and consumers.
"This survey was with over 1,000 shoppers and right in the middle of the holiday shopping. Shopping within an app versus shopping within a mobile browser, some patterns emerged. Many consumers are accustomed to completing a transaction with a mobile browsers, but apps are rapidly catching up to be a viable shopping mechanism. Consumers are becoming more comfortable with shopping within an app. For those shoppers who haven't yet experienced shopping within an app, that presents an opportunity for retailers to focus on consumers."
Interestingly, nearly one quarter of the survey respondents who said they do not use a mobile device for shopping said they intend to use either a smartphone or a tablet to make a purchase sometime this year.
One area that Adobe focused on in this survey was how effective the marketing to consumers is. Overwhelmingly, respondents said they make their buying decisions based on recommendations from friends, from Facebook interactions, and from emails from the company, with emails actually ranking higher than Facebook for influencing purchasing; online ads, which are often touted as an annoyance, also were perceived as more influential than Facebook by the respondents. This lets retailers know how their customers like to be introduced to new products, but the consumers surveyed answered that they share information about new apps mostly through live interaction with friends (53%0 and second, through Facebook (21%).
"When retailers are looking to engage more deeply with consumers, apps really fill that role."
Mercy Pilkington is a Senior Editor for Good e-Reader. She is also the CEO and founder of a hybrid publishing and consulting company.