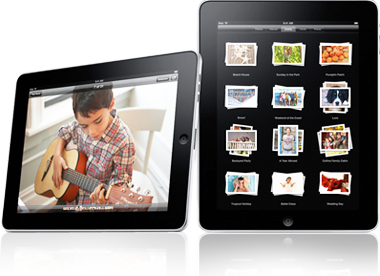 The latest Slate news has Apple and Steve Jobs are acting like they own the trademark to the word "pad" and many App Store developers have found their applications disabled or excluded from approval. How does this bode for companies such as Neofonie and their Berlin based Slate the "WePad"?
There has been many developers of note lately that have received the boot from Apple Appstore such as Chris Ostmo, developer of the JournalPad, and the JournalPad Bible edition. The Bible people! He received his notice from the appstore telling him that he had to change his application names in order to be accepted into the store. He even went so far as to write Steve Jobs himself a plea asking for inclusion. Jobs' reply? "It's just common sense not to use another company's trademarks in your app name."
The main argument with Steve Jobs reply to the email is that Apple does not own the trademark on the word "pad." According to Apple's Trademark List reveals only two trademarks with the word "pad" in them: iPad and MacPAD. Apple only recently got the iPad trademark from the previous owner in Fujitsu. Heavy rumours are just coming to light from an Apple Insider that they will quietly be assembling a legal team apply or purchase the trademark of the word "Pad".
Another application of note is by the name of ContactPad, which is a Facebook friends importer for the iPad. It recently had a rejection notice saying they went against the Guidelines of Apples new Policy Agreement.
It looks as like most developers who have the word iPad or Pad in their name will be now rejected upon submission or existing apps will be taken down.
It is fair to note, that apple did the same thing when the IPOD came out, and they did sue the Beatles for using the Word "Apple" in their songs.
Apple may for the here and now, just be comfortable of being the lord of its own realm in the Appstore, disapproving any app with the word pad in it, but will they go farther and disallow anyone with the name Pad as a contributing website be disallowed as well? What if Apple does buy the trademark to the word "pad". The legal ramifications for websites and other companies is staggering.
We welcome your comments below or follow more of this story on our E-Reader Forum