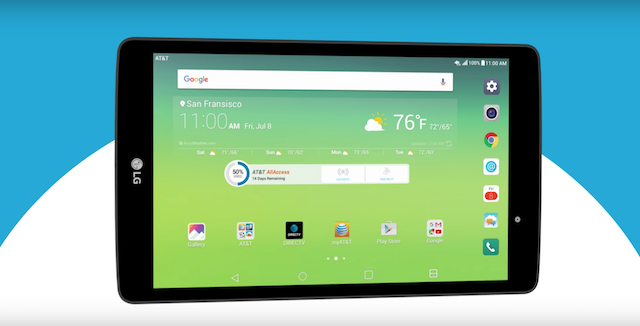 AT&T plans on selling a new tablet this upcoming Friday called the LG G Pad X 8.0 tablet. You can purchase it for $49.99 straight up and with a two-year contract, plus the cost of cellular data services.
The LG G Pad X 8.0 tablet features an 8-inch display with a 1200 x 1920 resolution, Qualcomm Snapdragon 615 chipset, Adreno 405 GPU, 2GB of RAM, and 16GB of internal storage. It has a dual-band WiFi, Bluetooth 4.2 and LTE. There is a 5 MP main camera with single LED flash on the back of it and 5 MP on the front.
There is a dedicated DIRECTV button which gives instant access to the TV service, the tablet can also be used to make and receive video calls using the same number as the smartphone courtesy of AT&T NumberSync.