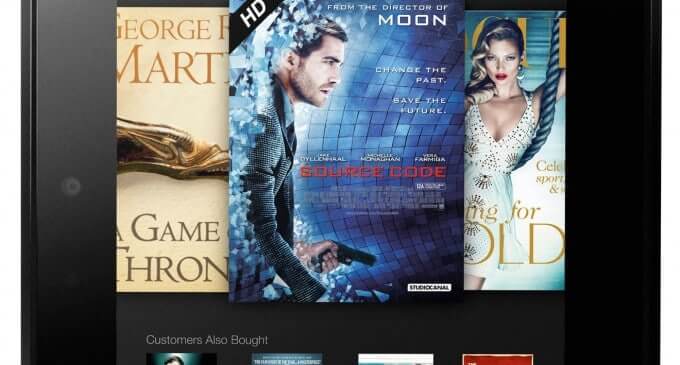 So the much publicized Amazon event is behind us and we now have a clearer understanding of the hardware Amazon has lined up for the next one year or so. The device list—Kindle Fire HD 7 inch, Kindle Fire HD 8.9 inch, and the original Kindle Fire—is impressive as it bears a clear testimony of Amazon's growing confidence to not just remain confined to the 7 inch sphere, but to venture out and pose a challenge to the biggies in the business as well, including even the mighty iPad. This leads us to the all important question: is the new breed of Kindle Fires enough to smolder its competition? Let's find out.
Kindle Fire 7
The original Kindle Fire has been provided with a new lease of life thanks to a much reduced price. The original is now down to just $159, which is insanely low for a quality tablet device that had the world's tablet buying crowd rooting for it during the last holiday season. However, a reduced price is not the only thing that Amazon is banking on to entice budget tablet buying crowd once again as we approach a new holiday season.
Externally, the new entry level Kindle Fire is the same as its predecessor, though the real improvement has been meted out to its interior. A new faster processor (1.2 GHz) lies in the heart of it with double the RAM capacity (1 GB), which Amazon is claiming will provide for 40 percent more processing capability. Amazon is also claiming a better performance as well, with 9 hours of back-up time quoted. Internal memory continues to be the same 8 GB and 5.5 GB of that will be available for user storage. However, there is the free unlimited cloud storage that has been made available for all Amazon content. Connecting to the net is via Wi-Fi.
Kindle Fire 7 HD
This is an entirely new development to take up the slot vacated by the erstwhile Kindle Fire. Looks wise, the 7 inch device sports more rounded corners and is a bit less rectangular than its elder cousin. It's refreshingly new, though there are enough new features included to keep us glued to it apart from the external design.
For instance, there is the new HD display which makes things more life-like than ever before on an Amazon tablet. With a 1280 x 800 pixel resolution, it translates into a quite impressive 216 pixels per square inch, which is the same as the segment leader Nexus 7. The display has been rendered more crisp and sharp with a lot less glare by laminating the bottom LCD screen and the touch sensor layer on top with zero air gap in between. Further, the Kindle Fire HD does not depend on just IPS technology to allow for a richer color reproduction, but also includes an advanced polarizing filter applied directly to the LCD panel to ensure a wider viewing angle while retaining the same color depth.
Another aspect where Amazon has put in a lot of effort is the tablet's Wi-Fi capability. The tablet now boasts of dual Wi-Fi antennas which, according to Amazon, will ensure a seamless connection to the net at all times. Amazon is claiming dual Wi-Fi antennas and Multiple In/Multiple Out (MIMO) technology a first for any tablet so far, which will allow the Kindle Fire HD to be operated the farthest from a designated Wi-Fi hotspot, the least dropped or missed calls, and the best performance for streaming HD content.
At it's heart lies a 1.2 GHz TI OMAP4460 Dual Core CPU, which Amazon is claiming to be 40 percent more efficient than the Tegra 3 chip with twice the number of cores. The Kindle Fire HD also includes Imagination PowerVR 3D graphics core to allow for a more fluid performance.
The tablet is based on Android 4.0 ICS, though as usual for Amazon, the OS has been heavily modified to be in perfect tune to the Amazon ecosystem. Also, with twice the storage capacity at 16 and 32 GB, there will be enough space to tuck away all the music and video files along with ebooks that you might need. Then there also is the free unlimited cloud storage for all your content.
Battery life is a claimed 11 hours, which is commendable, though it remains to be tested in real life conditions.
Another nice feature of the Kindle Fire HD is its dual speaker setup based on Dolby Digital Plus technology to allow for a better audio experience. Of course, the tiny speakers can't provide the best of audio quality, but does its job quite well considering. Further, with two speakers on board, it is going to be a lot better than what the Nexus 7 (with a single speaker) has to offer. The tablet also includes a mini USB port and a micro HDMI slot, though there is no microSD card support built into it.
The Kindle Fire HD has been priced $199 and $249 for the 16 and 32 GB versions of the tablet, which is exactly the same price as the Nexus 7, but with twice the internal memory capacity.
Kindle Fire HD 8.9
This can be considered the real surprise package, as this marks the first time the company is targeting the bigger sized tablet segment. The price won't be supersized, however, since Amazon is banking on heavily on low prices to ensure the device has enough buyers. But then, the tablet is also laden with features and has enough goodies included to make up for an overall appealing tablet deal.
To begin with, the bigger 8.9 inch display now packs in 1920 x 1200 pixels, which means there are 254 pixels per inch for our viewing pleasure. The display also comes with the same technology as its 7 inch cousin, creating less glare and wider viewing angles. Also, with that many pixels per square inch, the new 8.9 inch Kindle Fire HD is right in the retina display zone and compares favorably with the latest gen iPad 3 with its ppi of 264.
On the other side of it lies a 1.5 Ghz TI OMAP 4 CPU and an Imagination PowerVR 3D graphics core coupled to 1 GB RAM for smooth tablet performance. Storage options start at 32 and 64 GB, and is available in both a Wi-Fi only and 4G version.
The 8.9 inch version of the Kindle Fire HD also shares a lot of similarity as its 7 inch brethren which includes the same Dual-band, dual-antenna Wi-Fi setup, Android 4.0 ICS operating system that is tuned to the Amazon eco-system and so on. Then there also is the USB 2.0 port, mini HDMI slot and no microSd card slot as on the 7 inch HD tablet.
However, the one thing that Amazon is focusing on more is the tablet's cost effectiveness versus the iPad. The Amazon 4G tablet also comes with an annual $50 carrier charge (payable extra) which will allow for 250 mb of data usage every month. While that may sound too-good-to-be-true, the devil might be in the details. 250 mb is paltry in today's world for a tablet device that boasts of rich multimedia capability. Downloading just a few music videos can put us past that figure in no time.
This apart, the tablet's price reveals a huge price saving compared to a similar iPad version over LTE network. The 4G capable Kindle Fire HD is priced at $499 and $599 for the 32 and 64 GB versions. In comparison, the 32 GB iPad 3 with LTE capability (and a bigger display) is priced at $729. Add $230 more to it as annual 4G charges and the entire cost of owning the iPad 3 will turn out to be $959 a year. The Amazon offering is over $400 cheaper at $499 for the cost of the device and $50 for carrier charges, which add up to $549 a year.
Similarly, the Wi-Fi only Kindle Fire HD 8.9 is priced $299 and $369 for the 16 and 32 GB versions. This is also a lot cheaper than the corresponding Wi-Fi only iPad 3 model, which is priced at $499 and $599 for the 16 and 32 GB versions. This boils down to savings of over $200.
The entire tablet sphere has to reorient itself once again now that the new generation Kindle Fires are here. As to just how much of an impact the Kindle Fires will have, we will have to wait and see. For now, you can check out our hands-on review coverage of these tablets when the team was in Santa Monica! Visit the Good e-Reader YOUTUBE Channel for full coverage.
If you live outside of the USA and UK, you won't be able to buy these directly via Amazon, Best Buy, or any other major retailers. Our retail website Shop e-Readers will have them soon, so place your pre-orders now.
Sovan Mandal is the senior tablet and tech corespondent for goodereader.com. He brings a international approach to news that is not just applicable to the North American market, but also Asia, India, Europe and others. Sovy brings his own writing flavor to the website and is interested in Science Fiction, Technology and Writing. Any questions, send an email