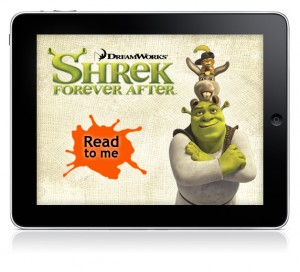 As part of the holiday recognition of their customers, a number of companies are offering their users free content in this post-holiday period when many users may have received new devices. Apps likes Apple's 12 Days of Gifts offer everything from free songs to free ebooks via the iTunes store.
One company that has extended the free gift period is children's ebook app developer iStoryTime. The zuuka-owned platform has produced a number of major titles for companies like Dreamworks, including Kung Fu Panda, The Smurfs, The Penguins of Madagascar, and more.
Today only, and only available with this code from Good e-Reader, iStoryTime is offering enhanced ebook of Shrek Forever After, the most recent installment about the world's most beloved ogre.
"Burdened by responsibility and trapped by routine, this ogre has lost his roar. In order to recapture his past as a real ogre, Shrek is tricked into striking a bargain with Rumpelstiltskin, trading a day from his life as part of the deal. But the fine print of the contract lands him in an alternate universe where he's feared, all right, but he's also never rescued Fiona or met Donkey, Puss in Boots, Gingy and all his fairytale friends. Now, to get back to reality and his family, Shrek has to find Fiona and defeat the devious Rumpelstiltskin before the deal expires."
To claim a copy of the book for iOS, go to the title's landing page in the app store and enter the code CANDYCANE under the Use Storycode button. The title can be found by clicking HERE.
Mercy Pilkington is a Senior Editor for Good e-Reader. She is also the CEO and founder of a hybrid publishing and consulting company.