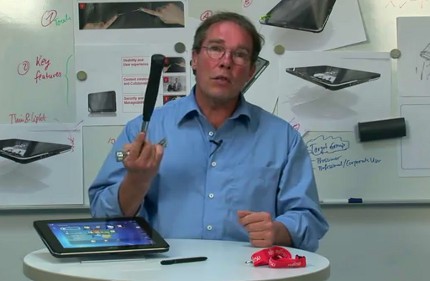 It was at the VISIT 2010 event held in Germany that the world perhaps had the first glimpse of a new tablet PC from Fujitsu that has been designed to run Windows 7 OS. Cut short to the CES 2011 event and this time, there was slightly more information available of the Fujitsu Slate though not enough to soothe many an anxious nerves.
What the CES had shown of the new tablet from Fujitsu include a 10.1 inch 1280 x 800 pixel display that featured N-Trig technology along with an innovative fingerprint swipe on the underside. The tablet at the CES came with an Intel Atom heart and was severely restricted in its functionality which was an indication of there being still some time left for the thing to get refined all the more. Fujitsu had also made it known that the tablet in its final configuration would be built around the new Intel Oak trail CPU.
While its still not clear when the tablet would be ready for a market debut, Fujitsu has in the meantime come up with an interesting video showing the usability and practicality of the tablet. And the tools used to bring out these aspects, as mentioned earlier include a hammer, chocolate and legos.
Why so? Well the logic behind it all is that Meinolf Althaus, Mobile Product Strategy Director at Fujitsu wants us to believe the tablet will get us started right away. Its will be as simple and intuitive as the hammer. After all, we don't have to remember how to use a hammer and we don't have to be taught which is the correct method of holding it. The same applies to the Fujitsu tablet as well.
The chocolate thing is to stress on the fact that the tablet, whose main intended clientele include those from the corporate world won't be just for consumption as most other tablet devices are. Instead, the focus with the Fujitsu tablet is content creation which again is easy as its all too familiar Windows stuff that the user will be greeted with.
Lastly, the soft silk scarf is to drive home the point the tablet would be just as inviting, comfortable and cozy as the scarf. In fact, the reference here is on the new user interface that Fujitsu is developing and would be on top of the Windows 7, something that would make the touchscreen issues of the Windows OS a thing of the past. To make things simple, if Windows 7 is a scratchy kitchen sponge, the UI layer on top of it would be like a soft silk scarf.
So while all of that is good and interesting, what was lacking is some hardware details of the tablet.
via hexus
Sovan Mandal is the senior tablet and tech corespondent for goodereader.com. He brings a international approach to news that is not just applicable to the North American market, but also Asia, India, Europe and others. Sovy brings his own writing flavor to the website and is interested in Science Fiction, Technology and Writing. Any questions, send an email