A few months ago we interviewed Chandra Rathakrishnan CEO of Fusion Garage which released their JooJoo Tablet PC earlier in the year. This was a Good E-Reader Magazine Exclusive.
For the latest interviews with some of the industries top CEO's subscribe to the Good E-Reader Magazine today!

JooJoo puts the magic of the internet at your fingertips. joojoo is a first-of-its-kind internet tablet that provides the ultimate browsing experience.
No pre-loaded applications, windows or menus. Everything on the internet is just a single touch away and instantly available anywhere anytime.
The joojoo is a very unique design, what prompted you to design the unit this way?
My vision for this device was something that was ultra-portable and sleek, able to be held with one hand while the user typed with the other. I also wanted to design something that provided the best viewing experience possible. It was important that the screen be large enough to easily watch videos, but also have an HD quality.
Your product has one of the largest tablet screen sizes in the industry at 12.1 Inches, what prompted you to go so big?
I wanted a device that provided optimal viewing for Web sites, online publications and HD videos. The joojoo is designed to be like having an HD television in the palms of your hands.
The joojoo runs on a Google android operating system. Will you be making your own app store, or are you going to be using the Google Market Place?
Joojoo is not an Android-based device. It uses a Linux kernel, but is a browser-based operatingoperating system unique to Fusion Garage. We will be releasing an API for developers, but in reality, the Internet is our app store.
What type of bundled programs are you offering in your shipped units? Social Media? Programs?
Joojoo does not have internal storage at this time, so everything is web-based. The home screen comes with buttons to link you to social networking sites, Internet media sites, as well as productivity sites like Google Apps.
Tell us a little bit about the web browsing experience on the JooJoo
Web browsing is a very fundamental part of joojoo. From the moment you boot up the device, you are only 9 seconds away from the Internet. From there, a simple gesture brings a URL bar down so you can type in a site, or you can go directly through a button on the home screen. Gestures then let you slide between windows.
The Tablet market is becoming very competitive with offerings by HP, Dell, Apple, WePAD and others, how do you feel about competition?
Competition is a very healthy thing. joojoo is quite different than other tablets in the fact that it is targeted at an audience is primarily Web consumers who don't like the constraint of a closed environment. We believe that the selection of a device like joojoo needs to be done to make sure that they are getting the right device for their lifestyle.
What advantages does your unit have over the other existing ones in the market place?
Well, the speed and boot up time is the fastest in the industry. Also, our 12.1-inch capacitive touch screen is the largest on a device of this type. And finally, we support Flash and HD video, providing an unparalleled video experience.

Is there any parting thoughts you would like customers to know?
Right now joojoo is only available to US customers, but in the coming months we are going to be announcing international availability.
Every month we do interviews and have the latest exclusive news on the E-Reader, Tablet and Slate PC industry! Sign up today for the latest E-Reader news with Good E-Reader! Also, if you like e-books check out our new E-Book Store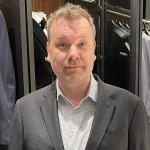 Michael Kozlowski has written about audiobooks and e-readers for the past twelve years. Newspapers and websites such as the CBC, CNET, Engadget, Huffington Post and the New York Times have picked up his articles. He Lives in Vancouver, British Columbia, Canada.