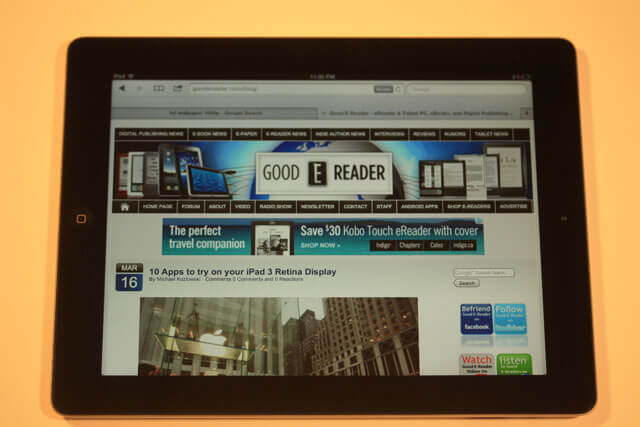 The Apple iPad 3 was just released and we got our hands on it the day it came out! The new device is billed mainly as a high definition retina screen that should take movies, apps, and gaming to another level.  How does it really stack up on its own with the content currently available, and how does it compare to the first iteration of the Apple iPad? Is it a complete paradigm shift in terms of tablet computing or should you adopt a wait and see approach?
Hardware
The 3rd generation iPad features the same 9.7 inch screen that has been indicitive to all previous released models. The big change is the elevated "retina" display technology that gives you a resolution of 2048×1536 pixels! This really is a huge advantage in pixel density not found in any other device currently on the market. It is further enhanced by a new quad-core graphics processor that allows games, apps, and other content to render faster than ever before.
Underneath the hood is a new Apple A5 dual-core processor running at around 1 GHZ, coupled with 1 GB of RAM. These two main factors really add to the overall performance. Apps and games loaded quicker on this model than any previous editions of the iPad, which is a relief for people with little to no patience.
If you love video chat or shooting video, you are in for a treat with Apple's new iSight technology found on the back of the iPad. It has a 5 MP camera that shoots 30 frames per second in full 1080p video capture. The one drawback on shooting video is the lack of a LED flash that makes recording in low-light conditions difficult. The front facing camera is a woeful .3 MP that might be passable for Skype video conferencing or taking advantage of Facetime.
Apple has maintained keeping the design of the iPad fairly consistent with the second generation edition that was released last year.  It has a 3.5mm headphone jack, single speaker on the bottom, and Apple's own proprietary charging and docking connector. On the side is a volume up and down button and a mute/orientation lock. On the top is a simple power/standby button. Nothing really game changing.
One of the big selling factors on this 3rd generation device is the ability to opt in for a more expensive 4G/LTE edition. Some users have commented that they are getting almost 24 MBS on the Verizon network. We decided to just get the simple WIFI version because at Good e-Reader we travel a fair bit and I found that the second and first generation models would not connect well to international cellular networks.
Internal memory is another factor that may influence what model you go with. There is no expandable memory via SD or Micro SD, so you have to make sure that you buy the model that has enough memory for your everyday needs. You can get 16, 32, or 64 GB models that really influence the cost. The average person really only needs the lower end 16 GB and WiFi for your day to day life.
Battery life seems to get about 6 to 8 hours depending on what you are doing. If you are watching movies and playing lots of games, you will drain your battery quicker than if you are just reading a book. Apple does not seem to ever make any headway in extending the life of your device or even offering any kind of options for aftermarket accessories.
In the end, the 3rd generation iPad is fairly sweet and really sets the stage for some really good content down the road. The one thing I loved during the initial setup was the fact I did not have to use iTunes in order to sync all of my old apps and games over. I had an iPad 1 with a ton of purchased content, ebooks, apps, and games. Once I set up my region and WiFi, I did not even need iTunes at all during the setup process. iCloud really was a saving grace to put all of my content on my iPad 3 in very short order. It took about 3 hours for all my stuff to be transferred over via WiFi.
Software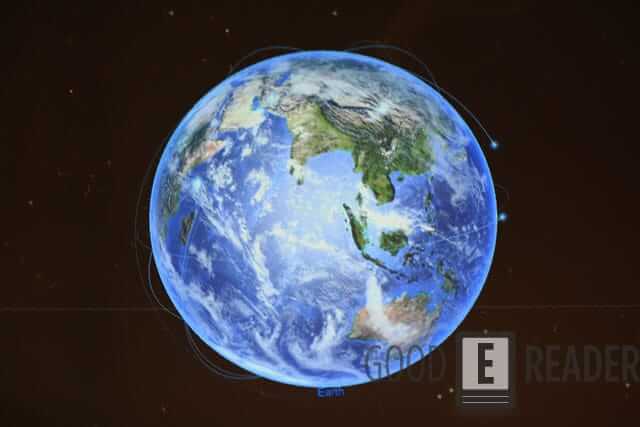 The 3rd generation iPad is shipped with iOS 5.1 and gives you a number of pre-installed applications like iTunes, App Store, Camera, Maps, Contacts, and a few other features. Nothing has really changed on the default app structure from the second generation model.
The Apple App Store has a new dedicated section of apps and games that were enhanced for the new retina display. Things like Skywalk, Kindle, Daily, and other content looks a BIT better on the new display, but it is hardly game changing. We did a number of side by side comparisons with the first generation iPad and the 3rd generation. We tested HD movies, games, and apps. The one thing I noticed was that the differences were too small to really notice. The fact is, no current apps or games were built from the ground up with high resolution textures and graphics. Skywalk was the most noticeable app that really stood out, with the planet earth looking 50% better on the iPad 3 then the iPad 1. All the other games and apps had features too small to notice.
There is really nothing to really say about the App Store and iTunes. It is simply the most expansive ecosystem in the world that has almost 4 years of a development track-record and has reached over 1 billion downloads. Unlike the Android ecosystem, Apple really takes a long look at all of the content submitted for inclusion, which often makes most things look fairly polished and does not crash your system. If you love music, movies, apps, and games, this platform is for you.
The main reason is big name developers have all gotten behind this platform in order to release games. Electronic Arts, Konami, and Square often release iOS exclusive games because that is where the majority of users are and where the money is made. Android is pirated too much and most companies end up losing money when focusing on that platform exclusively. iOS is simply where the money is, which is why it's the most successful ecosystem and platform in the world for mobile computing.
The Reading Experience
Every blog and major news source in the world will soon have their reviews up on the latest generation of the Apple iPad and at Good e-Reader we are more focused on the overall reading experience and how it performs on this latest gadget.
The big name app that was converted over a few days before the iPad 3 came out was the Amazon Kindle Reading App. Amazon remains one of the most successful book sellers in the world and their reading app is one of the best ones in the business. The recent update mirrored the GUI of their Kindle Fire reading app. You have the ability to switch between books in the cloud and books on your own device. They have a very intuitive UI that shows you the current books you have and dedicated shelves for newspapers and documentations. The text was also boosted up to perform better on the iPad 3, but really you will see it more evident on the previous generation models.
The one drawback on the Kindle App for iOS like most others offered on the App Store is the inability to actually purchase anything within the app itself. Last year Apple was in the news regarding the mandate that all in-app purchases had to be done within the iTunes platform instead of doing business directly through the company's app that you were using. This was no problem with buying coins or add-ons in games, but really sucked for buying content in popular reading apps like Kobo, Nook, Amazon, and others.  Amazon has countered this by developing the Kindle Cloud Reader that gives you the ability to use the Safari web browser to purchase books and then send them directly to your iPad. They also developed a new touchscreen friendly URL that is optimized specifically for the iOS platform and I found this better than the Cloud Reader. You can open up the link www.amazon.com/kindlestoreforipad  and check out the interface for yourself on your iPad.
Most other reading applications have not been updated yet for the latest generation iPad and really other than making the text crisper, what else can they do? Kobo currently leads all the reading apps on the market with their unique social elements. They go beyond simply allowing you to share with friends specific passages or tweet the books you are reading and towards a new direction. Reading Life is a huge boost to their platform where you can earn rewards and achievements in the form of merit badges and other cool features. People in the Kobo world are fairly competitive with trying to earn as many as they can for bragging rights. The platform also has a new feature found in the Kobo Vox, called Kobo Pulse. This allows you to chat with other people who are reading the same book as you are and has options to avoid spoilers. This feature is a good indiciation to see how popular a book is by how many different people have read it or are in the process of reading.
Many different comic book companies have developed apps exclusively for the iOS platform, including Marvel, Darkhorse, Comixology, DC, and many more. They all have their own independant apps that are available for download in the iTunes store. The one drawback with this new retina display is none of the comics look any different from previous models. I really doubt all these comics will make different versions of their comics for the newest model of the iPad, and we might not see any noticeable difference on the comic book front for at least six months. The main problem facing these companies is that they have a hard enough time digitizing all of their zero day releases. Major comic book publishers have gotten into the habit of releasing the digital versions on the same day as the printed ones. The comic on the iOS platform is the same as the Android one. Do you really think these guys will boost the resolution of art on one model and then dumb it down on others? I am not so sure. All I know is right now with comics there is no difference at all.
One seldom used feature is storing your comic books in dropbox in PDF or EPUB format and then opening them up and reading them on the iPad. This allows you to basically side load in your own content without having to use any third party programs.
Many people are adverse to reading on a glaring LCD screen and night mode helps which basically puts a black background and white text. The iPad shines as a casual reading device. To read newspapers, magazines and comic books. Reading Novels on a screen like this is certainly not for everyone, but many people grow up reading stuff on PC, tablet and phone screens.
What does the future hold for reading on the 3rd generation iPad? I really think it is with enhanced ebooks, textbooks, and magazines. In the end, normal ebooks will really not benefit at all from the retina display and major comic book studios have no time to tailor content specifically for the iPad 3.  With any device, people are starving for content to give you the "OH WOW" factor and I think enhanced ebooks, kids books, and books with multimedia elements are the way we will see great looking books, sooner rather then later. Companies like iStorytime have really come into their own by releasing interactive kids books exclusively for the iPad line of tablets. It's small nimble companies like this that are in a prime position to make iPad 3 exclusives that will encourage people with this latest generation model to buy their content because there is a lack of other books customized to the platform.
In the end, the "Retina" display found in the iPad 3 in terms of reading does not really deliver anything new at this time. If you are expecting a huge difference in reading magazines, newspapers, book,s and all the other reading apps at this point, you are out of luck. Not that it looks bad by any means, just nothing has been developed from the ground up in order to really make their content shine on the new platform.  Companies like Zinio have been eerily quiet about their plans for doing anything that may make magazines look a ton better and there is no news in terms of the Apple Newsstand making their content optimized better.
Our Thoughts
The Apple iPad 3 really sets the stage for the future of app, game, and content development on the iOS platform. This full review was written on launch day after we had 14 hours of playing around with the new features and comparing it against the first and second iteration of the iPad tablets. Content wise, there is simply nothing written exclusively for this model that gives you the "WOW" factor. Sure, some games textures have been changed but nothing to a huge degree. Most of the apps and games features on the App Store under the new section devoted to iPad 3 are nothing to write home about.
I found some playing with this model all day long was that apps, games, and books all load way faster. The best app so far was Sky Walk, which loaded in record time and really make the planet and solar textures really stand out. This is a must download for anyone that purchases the iPad 3 and wants an educational experience.
One of the big hyping factors was the inclusion of HD movies found in the iTunes market and most videos we tested did not really give a huge difference in video quality vs. the other models of the iPad.
In the end, I really think Apple has developed a solid 3rd generation model that will allow content developers a chance to make higher quality apps and games for the ecosystem. Things like this magically don't appear overnight and you may have to wait around six months for some very high quality games to appear. If anything, you can probably look to ID to make something really cool because they have a track record of taking things to the next level in terms of graphics and physics.
I remain very optimisic that the future of this retina display is in the hands of content creators to take the risk and make high resolution apps for this platform. Apple has sold close to a million iPad 3's on the first day and many people who had previous models are all upgrading to the new platform. I encourage all publishing companies and indie companies alike to get high resolution content on the App Market as soon as you can to take advantage of the people starving for optimized content within the next month.
PROS
High Resolution Display
LTE/4G is FAST on North American Networks
Thin and Light
Graphics Processor and Dual-Core CPU speeds things up
Video Shooting during the day is solid
If you are upgrading from previous models you don't even need iTunes
Cons
It gets very HOT very fast
Lack of LED Flash on Rear facing camera
No apps written from the ground up to support Retina Display
Weight is slightly higher then previous models
Most Data Plans for LTE are metered, watch how much you use
Facetime continues to be WIFI only
[cincopa AIGAi06ahaIK]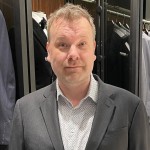 Michael Kozlowski has written about audiobooks and e-readers for the past twelve years. Newspapers and websites such as the CBC, CNET, Engadget, Huffington Post and the New York Times have picked up his articles. He Lives in Vancouver, British Columbia, Canada.