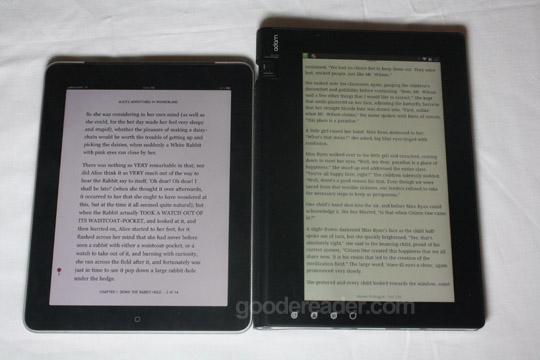 Yesterday we got our hands on the Notion Ink Adam and it was certainly a slick piece of hardware, although it did suffer from some small software bugs that hopefully will be solved with an impending firmware update. If you are interested in the FULL specs of the Notion Ink Adam, as well as our professional review the first day we received it, check out the Full Notion Ink Adam Review. Today we continue to dive deeper into the Notion Ink Adam, answering many of the questions that were posed to us and providing solutions to some software problems.
Notion Ink Adam Supported USB Storage Types
The Notion Ink Adam has two USB 2.0 ports and are compatible with USB Flash drives. We tested FAT, FAT32 and NTFS. From our extensive testing we found that the Adam is compatible with FAT and FAT32 but will not recognize NTFS.
In order to view the files contained within your USB drive once you plug it into your Adam you have to use the Sniffer application, which is basically your file manager. Upon loading the application it will tell you how much system memory you have, what is on your MicroSD card and your USB drive. You can then browse the USB attached to your Adam and launch pictures, video, audio and document files. When launched, these files will be automatically opened by their corresponding application. In some cases you can choose what program launches the content. For instance, if you click on a picture you can open it in the gallery or in the Canvas application if you want to edit it.
How to find your IMEI Number
If you have purchased a 3G version of the Notion Ink Adam you are wondering how to activate it via the SIM card slot. Well in order to activate an official data-plan you have to provide your Telecommunication company with the IMEI number of your Adam. Since the battery is very hard to remove you cannot see the number on your device. Instead you can view the number via the software. Simply open your Settings Menu, then select About Adam, next click on Status and near the bottom is your IMEI number.
The Adam display dims on certain applications
We found through our first hands on review of the Notion Ink Adam that even though our brightness settings were cranked to the max, we still encountered applications that discounted our settings and dimmed the screen. This is an error with the ambient light sensor not working correctly, to correct this problem go to your Settings Menu, select Display and then Brightness. When you see the bar that shows you how bright you want to make your screen you will see a box with text that is very hard to read. It says "Automatic Brightness" if you disable this item which is on by default, you will no longer encounter situations where it randomly dims on certain applications.
Facebook not working correctly?
The issue with Facebook failing to connect is due to the Time and Date error with shipped versions of the Adam. When we first received ours the date was set to 2009, which resulted in many applications not functioning. When we set the date manually to the correct one, Facebook then started to work properly.
How do I get new Apps on the Notion Ink Adam?
Many people have been asking us what the solution is for applications for the Notion ink Adam since the Genesis Market is unavailable and it cannot use the official Android Market.  The solution is our recent article on Alternative Google Android Markets! We have installed Slideme Sam 4.0 Market and have installed the Aldiko Reader, Amazon Reader and Kobo reader for Android! We have installed some games, twitter client and so on. So if you are looking for a good source of applications or e-reading applications you are in luck with our list of direct downloads, offering the APK's.
Now here are some errors we encountered so far, we are primary using our USB FLASH drive in order to load APK's and other media to our device, as its much easier then keep on connecting it to our computer or using a MicroSD drive. If you want to use the Aldiko reading application, which is the premier one for Android, you have to load your ePub ebooks to the device via the MicroSD card. When you try and use the Adams Sniffer file manager it does not recognize ebook formats as valid formats. This is due to the Adam not coming with a ebook reader application, so the device does not recognize via its Eden GUI ebook formats. Aldiko does have an import feature, but it only works with SD and MicroSD card and is incompatible with USB media. We also had problems with the Amazon for Android application, as it never recognized our valid WI-FI connection and disallowed us to connect.
The Amazon application was the only problem we had with the top reading apps available on the Android platform. The Notion Ink Adam allowed us to install and use; Kobo, Barnes and Noble, Sony, and Borders Android applications.

The e-Ink vs. Pixel Qi debate on the Notion Ink Adam
There has been a maelstrom of conflicting information in the last few days on how the Notion Ink Adam in its Pixel QI iteration is different from traditional e-ink found in most electronic readers. We found through our extensive testing that e-ink is much more vibrant in its gray-scale contrast then the Notion Ink Adams version of Pixel QI.
The two units we compared each other with was the e-ink display screen found in the new Entourage Pocket Edge and the Pixel QI found on the Adam. Under direct light the Pixel QI found on the Adam provided a high degree of contrast vs the e-ink found on the Entourage Pocket Edge. When we turned most of the lights off, we found the e-ink to be the superior in most facets.
From what we can tell thus far, when the Adam turns on the Pixel QI mode, by long pressing the top button the colors are very muted. This is mainly because the essence of Pixel QI technology is to consume less power and perform better in direct sunlight. We must say, it performs way better in direct light and sunlight then it does in your average room with average to dim lighting. Pixel QI also provides a tremendous advantage vs. LCD tablet computers in direct sunlight. The advantage e-ink has over Pixel QI is the gray-scale background in which the text appears. It has a very high degree of contrast, vs the Adams version of Pixel Q,  which does not make the background as bright as you find in e-Ink. You can see from some of our pictures below our comparison photos, documenting our entire process. We have both one picture using LCD while reading a book and another picture using Pixel QI.
The Notion Ink Adam vs iPad Comparison
The iPad vs the Notion ink Adam comparison will be one of our feature articles for this weekends edition of the Good e-Reader Blog. We will be documenting the entire process in the next day or two that will pit the two tablets side by side and running a battery of tests. Today, our main concern is using the tablets as an e-reader and how they display text and how they perform. If you want to see a side by side hardware comparison between the two, you can check that out HERE.
Today we tested how ebooks look using the same application and the same book in portrait mode. We found the Apple iPad has a whiter background by a slim degree. As well, there was more text displayed on the Adam due to the fact that it has a bigger screen to fit more in. To wrap up the ebook testing we also had direct light on the screens and normal light.
Finally, we also compared the main screens that you launch applications from, to give you an indication on how the units look aesthetically side by side.
A Glaring issue with the Adam
There has been much debate on the Notion Ink Adam and the issue that appears with reflection and the screen protector that comes with it. Glaring on LCD tablets is a big issue with larger screen devices that have a capacitive touch screen. We noticed the same amount of glare with the Adam as we did the iPad. People are noticing more glare on the device because of the user interface and many of the features and menus have solid color backgrounds. We tested the Adam with the screen protector that came with the device, and it did not really cut down the glare very much. It did to a small degree, we would estimate about 30% of the reflection on the screen was diminished using it. From a practical point of view, I am currently not using the screen protector after running tests on it, as it looks a little too artificial. After all, I like my technology and gadgets shinny!  Also, the reflective glaring on the Adam does not dwindle to a staggering degree under direct light when you engage in Pixel QI Modes.
The whole issue many people seem to have with glare on the units comes from a few extenuating factors. Firstly, many of the reviews so far have had the Adam under direct light, either from an overhead light or a professional lightning system. You can see from most of our pictures, that we did not see much glaring at all in them, because we did not have a light-source hanging right above it. Although if you look at our video review, you can see the glare issue very clearly. We will be running tests soon to show how the Adam performs under different environments, such as outside, and in direct sunlight. Included in the gallery below is a before and after view of the Adam using the screen protector and not using it.
Check out the review we did really fast an hour after receiving the tablet. We will be posting more videos that are more comprehensive very soon, but we at least wanted to give you guys a little bit of hands on video to work with while we do proper ones

[cincopa AgJAleqVoELK]

Michael Kozlowski has been writing about audiobooks and e-readers for the past twelve years. His articles have been picked up by major and local news sources and websites such as the CBC, CNET, Engadget, Huffington Post and the New York Times. He Lives in Vancouver, British Columbia, Canada.