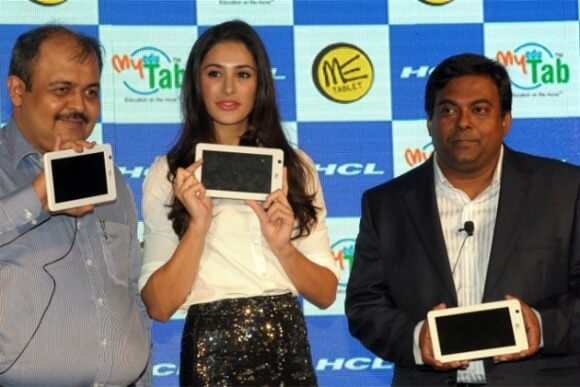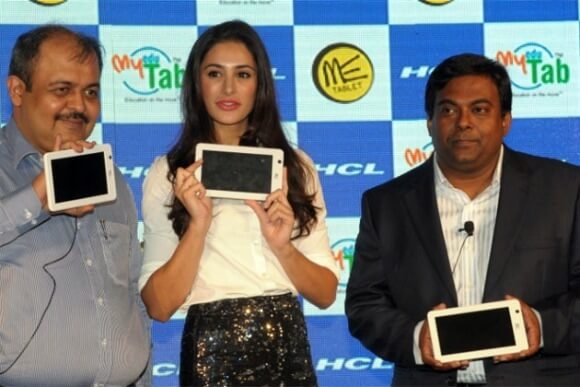 There is quite a number of of HCL made tablets that you can find in the market today. The IT focused company has come up with three more, all of which are targeted at the student community. One of the strongest assets of these devices is the operating system, running Android 4.0! The price range is also fairly solid from INR 7,999 for the Me Tab U1 to INR 9,999 for the MyEdu models. Finally, all three of the tablets are going to be issued in white, which is a stark contrast from the glut of black ones on the market.
The general specifications of the tablets include a 1 GHz single core processor, 512 MB of RAM, 4 GB internal memory, and Android version 4.0.3 as the OS. All of them will have a 7 inch capacitive touchscreen up front with a 0.3 megapixel front facing camera for self portraits and video chatting.
As for the tablet specifics, Me Tab U1 is the lowest price at INR. 7,999. The other two comprise of the My Edu range, My Edu Tab K12 for students up to Grade 12 and My Edu Tab HE aimed at students pursuing higher education. These are priced at INR 11,499 and 9,999 respectively. The three tablets are powered by a 3600 mAh battery and are 3G capable. However, Google Play will remain off bounds for the three tablet devices, though there is the HCS App Store that users can contact, which the IT giant is claiming to have apps that are specially customized for the tablets.
[showhide type='pressrelease']Chennai, April 2, 2012: HCL Infosystems Ltd., India's premier hardware, services and ICT systems integration and Distribution Company, unveiled two powerful products today – the HCL ME U1 and the HCL MyEdu Tab. While the U1 is a trendy and stylish device, based on the latest OS and designed specially to suit the needs of the Indian consumer, the MyEduTab tablet caters to the needs of Learners across Schools and Higher Education Institutions and provides personalized and collaborative learning.
As the tablet market is set to witness exponential growth ME Tab U1 is expected to lead the way in creating different usages for different segments of consumers. The U1 is very competitively priced at Rs. 7,999/- and is powered by the latest and super fast Android OS 4.0.3 (Ice Cream Sandwich). It is packed with 17 local ready to use applications, sports a 7 inch 800X480 Pixel Capacitive Screen and has a 1Ghz processor with high performance and low power CPU. The tablet comes with a Front Camera and 512 MB RAM, with an internal memory of 4GB expandable to 32GB. HCL ME U1 also has a full USB, mini USB and a Micro SD card slot. It has a robust 3600 mAH battery and one of the only products in the market with an option of 3G data connectivity through USB Modem. The tablet also enables an exclusive access to the ME App store which has over 10000 applications capturing the latest and the best android apps in the world for U1 users. The U1 also provides for Wi-fi connectivity.
Speaking on the launch, Mr. Gautam Advani, EVP & Head, Mobility, HCL Infosystems said, "The Tablet market in India is growing at a rapid pace and the device is fast enriching consumer's lives by finding unique usages from a learning companion to a productivity enhancer. We are extremely proud to support this next wave of growth by introducing the U1 which is built on the success of our earlier version and is an addition in our product portfolio. This is an absolute value for money product and we expect it be a hit with our consumers. Apart from the fact that U1 is packed with the latest in technology, its superior aesthetics will definitely enhance the style quotient of our consumers – an aspect that is extremely important for today's youth"
The HCL ME U1 also will come with free goodies worth Rs 3000 and bundled offers, which include offers on Hungama (free unlimited downloads for three months), Cleartrip.com (Discounts on Air Tickets), and Think Free Office. Some of the pre loaded applications that are extremely relevant for the Indian Consumers are – 3D Digital Weather Clock, Cleartrip, ME Apps, HCL Touch, Hungama, ibibo Ibrowser, LinkedIn, Moneycontrol, Ninja Run, Twitter, Naukri among others.
HCL Infosystems has brought the new & innovative MyEduTab to Indian educational institutions for both schools and colleges. MyEduTab will enable students, teachers & parents to connect, collaborate and share information as well as content over the Cloud. For instance, while the teacher can upload content onto the cloud, the student or the parent can access the same (for eg. homework) on his/her MyEduTab.
MyEduTab aims at personalized learning while helping the students to understand concepts at their own pace. With the topic revision application and a self assessment engine on MyEduTab, students can self evaluate their skills and knowledge, while parents will now be able to monitor their child's progress in an easy and convenient manner. The price for the MyEduTab– K12 Version is Rs. 11,499, which includes the price of the device, content and a memory card while educational applications and NCERT books will be free.
MyEduTab- Higher Education(HE) Version priced at Rs. 9, 999 is an edutainment platform which brings together world class rich multimedia content on technical and professional skills, assessments and Apps. This enables networking & collaboration and leads to an all round development and employability enhancement for students. MyEduTab is the perfect companion for students to self learn and become industry ready.
Speaking on the occasion, Mr. Anand Ekambaram, Sr. Vice President, HCL Infosystems Ltd. & Head HCL Learning said, "This is an innovative device for the 21st century learner. It will change the way we learn, definitely make learning an interesting proposition and will make the student more engaged even as the cloud eco system will enable a learner to imbibe knowledge at his/her own pace. The MyEduTab will rope in parents by enabling them to take a more active interest in their wards learning process"
Already educational institutions including schools and colleges have confirmed to use the MyEduTab in their respective ecosystems. The MyEduTab K12 Version will have the following content – NCERT K12 Mapped Content which will have rich animations and text in 2D and 3D, Solved Examples, Chapter Quizzes, Key Revision Points and Free NCERT Text Books. Educational Applications available in the Tablet will include Parental Control Application, Online Quiz Engine, My Studio to search & explore free educational content online, Online Videos, Online Encyclopedia and Problem Solver Application. Also the MyEduTab will have 1st to 5th standard Hindi and English content and GK Content for junior classes.
The MyEduTab will be available on specifications similar to U1, which is also provided with integrated back up service with HCL Touch, a 24X7 one touch service facility.
Both tablets will be available in stores and for educational institutes in Delhi and across the country from April 2012 onwards.[/showhide]
Sovan Mandal is the senior tablet and tech corespondent for goodereader.com. He brings a international approach to news that is not just applicable to the North American market, but also Asia, India, Europe and others. Sovy brings his own writing flavor to the website and is interested in Science Fiction, Technology and Writing. Any questions, send an email