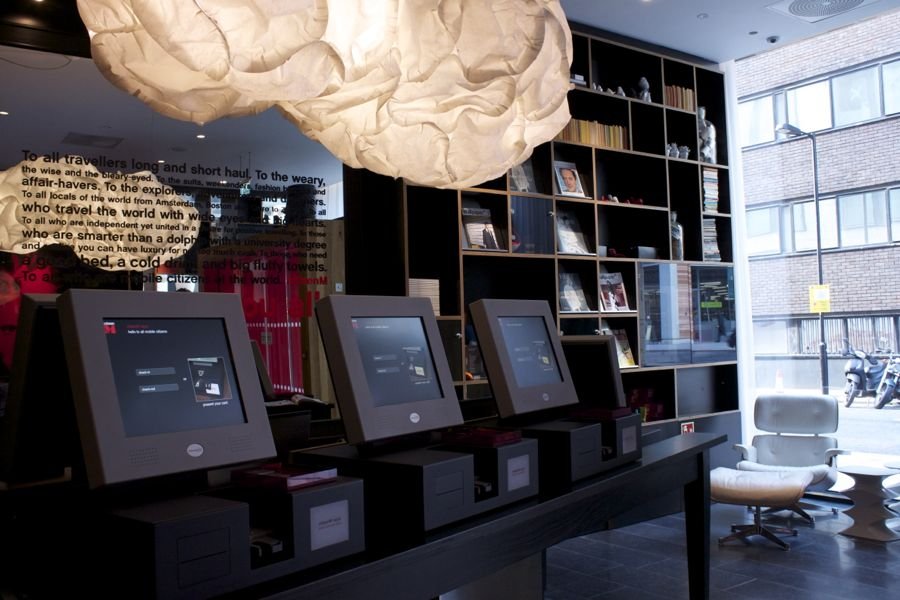 Hotels are starting to adopt tablets more and more into the business and guests are starting to benefit. In our last article we talked about a recent survey of 53 hotels across the USA found that 82% of guests who had access to the in-suite tablets used them an average of 11 times per stay. Of the guests who used the hotel in-room tablets, 41% ordered in-room food, 21% requested a wake-up call, and 7% called for a housekeeper, according to the study by Intelity. Many guests who were surveyed said they would visit the same hotel again during their travels, because hardly any hotels actually make them available to their guests.
One of the best examples of a hotel adopting tablets is a high-tech boutique hotel called CitizenM, in London. The hotel forgoes the traditional concierge. Instead, guests check themselves in and out on touch computer screens. In each room, a personalized Samsung Galaxy tablet greets guests and lets them control everything from the blinds to the lights on the tablet. Internet access is free and there's no password. Netflix movies can be watched on the TV from the tablet for no charge. CitizenM says it wants to make guests feel like they're at home.
Today, we are going to look into each aspect of tablet integration in the traditional hotel and make suggestions on how they can easily be implemented into the existing structure without a ton of investment.
Tablets at the Concierges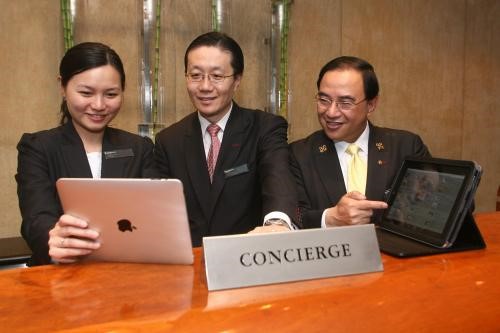 Often the concierges need to know the lay of the land and point out local attractions and must see events. Tablets can benefit this sector because they don't need to carry around bulky maps or outdated pamphlets. Digital tablets can give guests the ability to utilize Google Maps on how to get to a particular destination. Often digital is the best way to go because maps and guidebooks often get outdated very quickly, new restaurants pop up all the time and digital is the way to go.
InterContinental Hotels was the first hotel network to supply their concierges with tablets in April, 2010 in order to provide rapid response to their clients' requests.
I would recommend not only to outfit your front-end staff with with tablets but to make them available in the hotel lobbies. There is plenty of out of the box Guide software that would inform the guests of local area activities and businesses, including restaurants, bars, nightclubs, spas, and retail stores. Each station would contain a tablet with touch screen technology that allows hotel guests to navigate through activity categories, find where they want to go, and make the most of their time in the city. This is perfect for high-traffic hotels and give guests a chance to interact with a person for advice if they want, or figure things out on their own.
Tablets at the Bar or Hotel Restaurant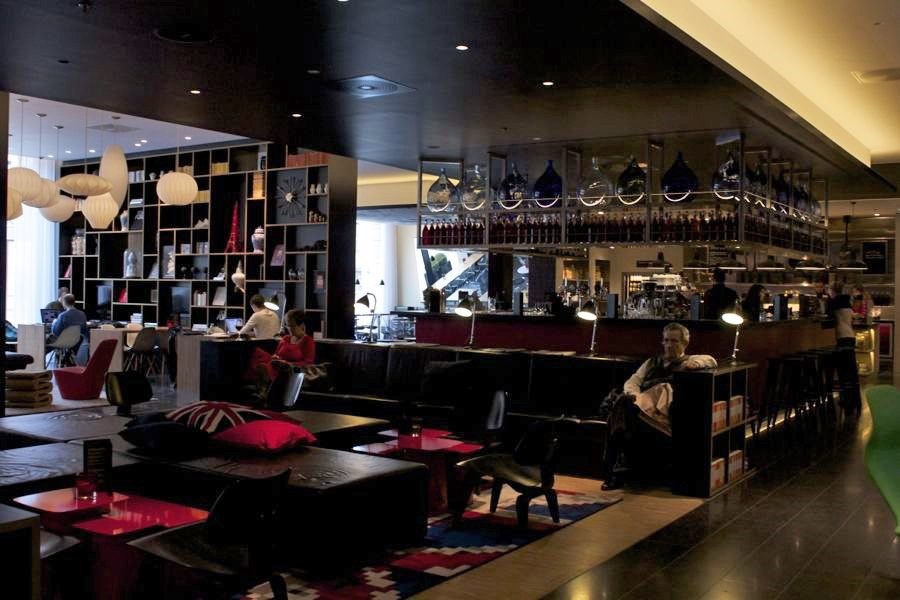 More hotels are starting to employ digital menus instead of the more tangible editions. The digital edition allows the hotel to update their menus more often, and cuts down on printing and design. The big buzzword in the hospitality industry is being Eco-friendly. There is nothing more most cost effective and good for the environment then going digital. Hotels can simply make a web version of their menu and have it pop up by default, the tablet locks the customer into only the web-browser and prevents them from accessing any other part of the tablet.
Hotels can update their menus on-demand by making simple front-end web-adjustments, without the need to rely on complicated programing. Drink specials, seasonal specialties, and chefs recommendations often change often, having outdated menus limits a hotel in appealing to their guests. This is also perfect for boutique hotels that have wine tasting sessions and the bottles often change.
I would recommend that hotels invest in a good pedestal and tethering system. This would allow guests to easily interact with the tablets and would prevent theft, but also make them look stylish.
Tablets in the Hotel Rooms
Many hotels are starting to adopt tablets in their boutique hotels, because fewer rooms have a lower overhead than a larger hotel with hundreds of suites. I would recommend if an established hotel is looking to get into offering tablets in the rooms that  they be made available in select rooms that are geared towards VIP guests. Guests can gain access to the same data the main concierge offers.
If a hotel is more connected or wired, the tablet would allow customers to adjust the room temperature, air conditioning, order room service, or automatically checkout.  They could let the maid know their room is available to be cleaned and even access Netflix and other streaming services on their television to cut down on cable costs. Obviously, most hotels are not really wired too well and it would warrant an investment in a solid wireless solution.
I would recommend that if a hotel wanted to make tablets available in the rooms that you adjust the wording in the check-in document, so that it is clear that if they abscond with it, the cost of the device and software is billed directly to their credit card.  Hotels can also charge extra fees to have them in their rooms.  Normally $9.99 per day is the industry standard and free for VIP clients.
"For a lot of hotels, it's an extension of the kiosk mentality," says Michael Planey, a travel technology analyst. "The app economy is about giving people control of their own environment."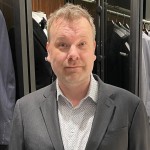 Michael Kozlowski has written about audiobooks and e-readers for the past twelve years. Newspapers and websites such as the CBC, CNET, Engadget, Huffington Post and the New York Times have picked up his articles. He Lives in Vancouver, British Columbia, Canada.