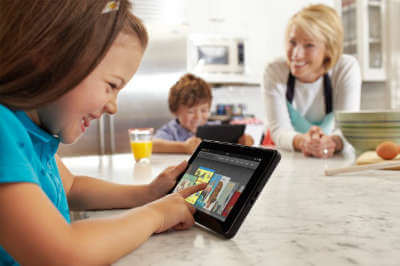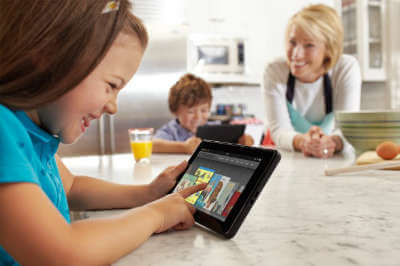 Amazon has never really targeted the kids segment with its Kindle Fire, though the tablet is increasingly finding application as much a kids' favorite play mate as it is their parents' tablet of choice. While there is no shortage of tablet devices that have been designed almost exclusively for children, but the Kindle Fire's favor is both cheap and can be of as much use to the grown ups as it can be for the kids' amusement. The highly affordable price tag of just $159 almost makes it expendable, so parents are open to the idea of letting their kids play around with the device, even though the Amazon tablet is without any sort of special cladding to ensure the hardware remains safe in the hands of children.
Realizing the potential, Amazon has been quick to introduce a special subscription based service, "FreeTime Unlimited," that is aimed exclusively to the age group of 3-8 years. Parents can subscribe to the service at a monthly cost of $4.99 for a single child plan or a $9.99 for a family membership. Of course, the deal is even better for members of Amazon Prime, just $2.99 and $6.99 respectively. Once subscribed, users will have at their disposal an unlimited treasure trove of ebooks, videos, games, educational apps, all rated to be kid safe. Also, there are enough firewalls built in that will allow parents to keep a tab on the time they want their kids to spend watching videos or to prevent them from making any purchases online.
"FreeTime Unlimited reduces the contention that parents have with their kids," says Peter Larsen, vice president of Amazon.com's Kindle unit. "Where a kid is always like, 'Hey, can I buy this? What about this extra book or extra app?' For parents … we'd like to have to not make those micro decisions every day."
However, while many believe Amazon's unlimited content will be too good to resist, not everyone is jumping on to the new service bandwagon just yet. Several authors, publishers, and agents have yet to authorize Amazon to include their creation in the subscription service, while some believe a subscription based service can negatively impact the sale of individual ebooks. Another point of contention for the content providers is that Amazon has yet to come clean on how they wish to pay those from whom the content is being sourced.
As of now, Amazon's FreeTime Unlimited service is being keenly watched by all, by its competition (Apple, Kobo, and Barnes & Noble) and the authors and publishers. If it succeeds, there no doubt will be quite a few more instances of it with the authors and publishers eagerly submitting their works for the subscription model.
Does this allude to a kid specific tablet from Amazon? The Kindle Fire has a dedicated user base in the kids community and has continuously emerged as the preferred choice of hardware. In such a scenario, what seems almost a certainty is that Amazon won't like to spoil the party by launching a tablet targeted exclusively at kids, ruling out the grown ups using them. The Kindle Fire is inexpensive and Amazon for now is more eager to see its subscription service gain prominence among both the young ones as well as their parents.
Sovan Mandal is the senior tablet and tech corespondent for goodereader.com. He brings a international approach to news that is not just applicable to the North American market, but also Asia, India, Europe and others. Sovy brings his own writing flavor to the website and is interested in Science Fiction, Technology and Writing. Any questions, send an email