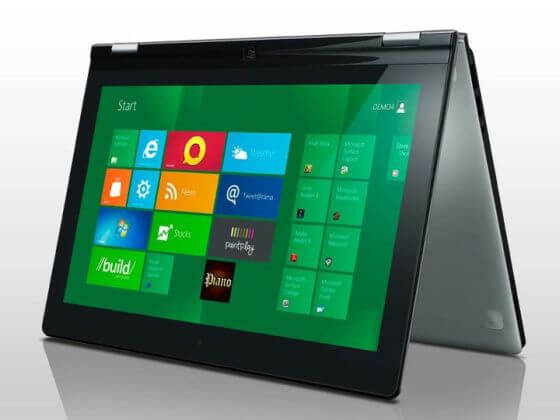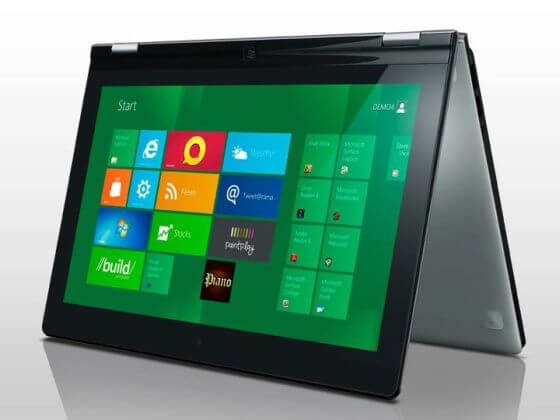 How about a tablet/notebook convertible device that's as flexible as the ancient physical and mental healing method promises to do to the human body. The Lenovo IdeaPad YOGA is just such a device that is so very different in its flip feature. The screen side of the notebook can be set back to 360 degree, though this is something that is possible with all notebooks. However, the device can still be folded after that and voila, its just the screen that becomes available for viewing. It breaks fresh ground in that no other laptop, notebook or convertible tablets will allow the screen to be push back until its outer surface goes on to meet that of the keypad. Convertible tablets have never been too popular though the IdeaPad YOGA could give other notebook makers something to think about.
So what's the big deal about it? Well, such a feature allows one to position the screen upright with the keyboard providing support. This in turn will allow for viewing movies or pictures on it though the same could also have been achieved in a more conventional netbook stance. Also, with the keypad flipped over backwards can make the entire thing look as much ungainly from the rear as it looks sleek from the front.
Otherwise, the rest of the IdeaPad YOGA story isn't too ground breaking. Like it comes with a 13.3 inch display based on capacitive multi-touch technology having a resolution of 1600 x 900 pixels. The Notebook itself has an Intel Core processor as its heart coupled to 8 GB RAM along with a 256 GB HDD. OS for the notebook is Windows 8 and the device really impresses with its performance here.
So far the dimensions go, the device weighs 1.47 kg and is 0.67 inch thick. The figures might just be OK in its attempt to mimic an ultrabook though its quite a bit on the heavier side for pure tablet usage. In fact, single handed usage can be quite strenuous with a device that measures 13.3 inches and weight that much.
Lenovo though is claiming that the IdeaPad Yoga can take care of the needs of both business and general consumers.
"It is clear to us that consumers want their four screens: mobile devices, tablets, notebooks and smart TVs and they want them to work together seamlessly, anytime, anywhere," said Yang Yuanqing, chairman and CEO, Lenovo.
"Whether a notebook that bends and folds, or an all-in-one that puts the 'wide' into wide-angle, today's announcements reflect our focus on delivering the inspirational innovations that consumers are looking for. The IdeaPad YOGA multi-mode notebook redefines the convergence and convertible user experience by bringing together the best of traditional PCs, with the best of tablets and more."
Price of the Yoga notebook is expected to be around $1199 when it is launched in the second half of this year.
via softpedia
Sovan Mandal is the senior tablet and tech corespondent for goodereader.com. He brings a international approach to news that is not just applicable to the North American market, but also Asia, India, Europe and others. Sovy brings his own writing flavor to the website and is interested in Science Fiction, Technology and Writing. Any questions, send an email