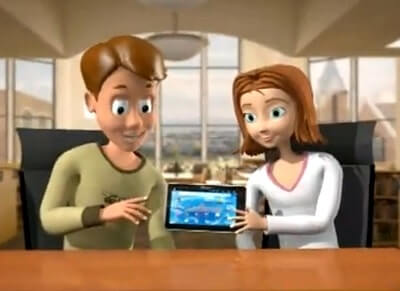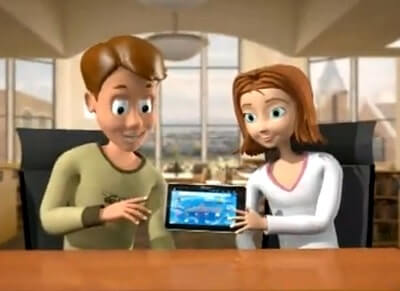 French company Lexibook is all set to launch its tablet meant for kids in the US on September 15. Running Android (version unknown), the Lexibook tablet comes with all the features that any kid's tablet should have, which includes built-in parental controls that will allow the parents to keep a tab on what their little ones are up to in the virtual world. The tablet connects to the internet via high speed Wi-Fi connection, so kids can download essential apps from the Lexibook Market that plays host to more than 10,000 apps. These include Pig Rush, Angry Birds, Fruit Ninja, Pandora, and Skype, to name just a few. Also available are thousands of other fun and educational apps that should appeal to the Kids.
The Lexibook tablet is also designed for use by both the toddlers and pre teen community and comes pre-loaded with content that can be considered appropriate for them.
"The educational content is adapted to the curriculum with 500 sheets of general education, tests and interactive quizzes. School Zone™ apps and 200 pre-loaded e-books are also included to complete the educational offer. Children will discover their favorite stories, rhymes and Susie Tallman's top songs and karaoke videos. For even more fun, 25 games and 52 discovery activities are included as well as a camera with photo editing software," the company press release revealed.
Kids will also get to watch videos, listen to music, or play games on the tablet. The idea is to let the current breed of tech savvy children have a device that can be as much for fun and games as it will be for study.
As Lexibook CEO Aymeric Le Cottier stated: "We're really excited to present this new innovative range that will enable kids to change the way they learn and play. Our great content and fantastic features bring an immediate unique user experience and the built-in gaming and apps download center bring endless possibilities for kids."
The tablet will be launched across the US at all Toys R Us stores, though the pricing has been kept a secret so far.
[showhide type='pressrelease']NEW YORK, Aug. 24, 2012 /PRNewswire/ — Lexibook®, Android® educational kids tablet leader, is delighted to announce the official launch of its new tablets for kids nationwide from September 15, 2012. With a preview launch at Toys' R Us stores across the country, parents will discover tablets with content tailored to the needs of the new generation.
With a high definition tactile screen and a kid friendly interface, the tablets offer an unprecedented content offer for toddlers to pre-teens. The educational content is adapted to the curriculum with 500 sheets of general education, tests and interactive quizzes. School Zone™ apps and 200 pre-loaded e-books are also included to complete the educational offer. Children will discover their favorite stories, rhymes and Susie Tallman's top songs and karaoke videos. For even more fun, 25 games and 52 discovery activities are included as well as a camera with photo editing software.
Wireless internet browsing through a high speed built-in Wi-Fi connection is kept safe through embedded parental control, while kids can still download more than 10,000 must-have apps on the Lexibook® Market including Pig Rush™, Angry Birds®, Fruit Ninja®, Pandora®, Skype®, and learn while having fun with educational apps adapted to every age group.
With the Lexibook® Videostore by Kabillion™ and Spotify® music portal, cartoons, music, and other favorite videos are available in one click!
Lexibook® Tablets are a concentrate of educational, multimedia and interactive activities allowing children to finally have a tablet just for them. Parents and children will share amazing moments and kids will learn fast in a fun way. Great accessories will also be available: tablet skins, cases, stylus, keyboards, headsets and more.
Aymeric Le Cottier, CEO, comments: "We're really excited to present this new innovative range that will enable kids to change the way they learn and play. Our great content and fantastic features bring an immediate unique user experience and the built-in gaming and apps download center bring endless possibilities for kids."
About Lexibook®
Lexibook® (EURONEXT C: 3359, www.lexibook.com) is a French company which designs, manufactures, and markets consumer electronic devices and electronic toys. Lexibook® is now a leader in mass market distribution of educational electronic toys, electronic games, chess games, dictionaries, translators, calculators, and kids consumer electronics. Lexibook® markets over 500 products in 41 countries, and has sold more than 40 million products around the world. The group employs 122 people in its subsidiaries and its development center in Hong-Kong. Lexibook® group has reported a tenfold increase in revenue in 14 years. Lexibook® aims at bringing its consumer electronics technologies into the toy world and become the world leader in its segments.
Contact:
Phone number : +33(0)1 73 23 23 27
Email address : cecileausset@lexibook.com
PR Newswire (http://s.tt/1lChi)
[/showhide]
Sovan Mandal is the senior tablet and tech corespondent for goodereader.com. He brings a international approach to news that is not just applicable to the North American market, but also Asia, India, Europe and others. Sovy brings his own writing flavor to the website and is interested in Science Fiction, Technology and Writing. Any questions, send an email