The Apple iPad has transcended species at the Dolphin swim facility in Puerto Aventuras, Mexico with a young Dolphin named Merlin. He has joined the growing ranks of iPad aficionados worldwide, albeit, not in the way Steve Jobs originally intended. Merlin uses the ipad to communicate with his handler and trainers using the iPad.
Jack Kassewitz has developed new software for the iPad to use a new interface with symbols and language. Merlin uses the touch screen by a learned response to real world objects presented to him. Trainers use common objects like a Fish, An Apple, a ball or a cube and then show them the iPad and then Merlin taps his beak to hit the appropriate symbols. "We think that once the dolphins get the hang of the touch screen, we can let them choose from a wide assortment of symbols to represent objects, actions and even emotions. This is an easy task for a dolphin, but it is a necessary building block towards our goal of a complete language interface between humans and dolphins."
Jack Kassewitz also works on a project called Cymaglyph which analyzes the sound vibration made in the water when the dolphins speak to each other and maps it to an image form called "picture words"
Certain sounds made by dolphins have long been suspected to represent language but the complexity of the sounds has made their analysis difficult. Previous techniques, using the spectrograph, display cetacean (dolphins, whales and porpoises) sounds only as graphs of frequency and amplitude.
The CymaScope captures actual sound vibrations imprinted in the dolphin's natural environment—water, revealing the intricate visual details of dolphin sounds for the first time.
Kassewitz has said, "There is strong evidence that dolphins are able to 'see' with sound, much like humans use ultrasound to see an unborn child in the mother's womb. The CymaScope provides our first glimpse into what the dolphins might be 'seeing' with their sounds."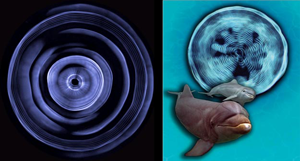 a baby dolphin uses the CymaScope software to call for its mother.
They see this technique in conjunction to store the information in the iPad to provide a Rosetta Stone between the sound vibrations the dolphins the use to communicate with each other and the picture word association the trainers are using to do word association.
Their new dolphin application end result is to come up with a communicative method between people and dolphins. You heard of people who speak Klingon to each other, can speaking Dolphin to each other be so far off? If the App is cheap, we say YES!
You can learn more about Merlin and his iPad adventures with the Speak Dolphin in the link below
http://speakdolphin.com/home.cfm
For more about Merlin he will be one of our lead stories in the Good E-Reader Magazine! He sure and subscribe now for the June Issue.