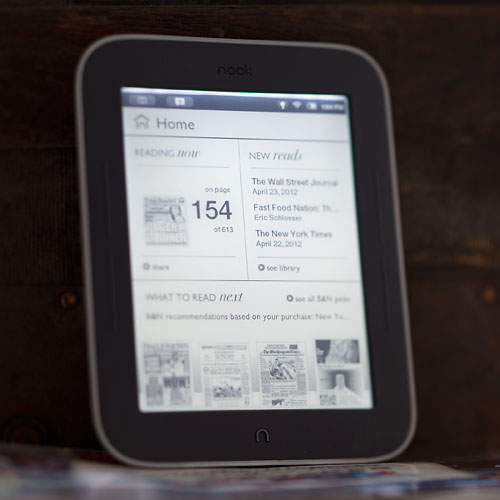 Only last week, Theresa Horner, VP at Barnes and Noble, sat down with Good e-Reader at the Frankfurt Book Fair and effectively put to rest the ongoing rumors that B&N was working to distance itself from the Nook division. Today, Barnes and Noble backed up that point by launching the update for Windows 8.1 to power the Nook app.
"NOOK is one of the highest-rated reading and digital bookstore apps for Windows 8 and we've added even more great features to coincide with the launch of Windows 8.1," said Mahesh Veerina, Chief Operating Officer at NOOK Media LLC, in a press release today. "With the NOOK App for Windows 8.1, customers get an incredible reading experience and can choose from over 3 million NOOK Books™, including 1 million free titles, as well as magazines, newspapers and comics on any Windows 8.1 device."
According to the release, there's an added incentive for customers who take advantage of the app update: "To celebrate the launch of the NOOK App for Windows 8.1, customers who download the app have access to an exclusive list of first-in-the-series titles available for $2.99 or less, for a limited time. Popular books available in this offer include One for the Money (Stephanie Plum Series #1) by Janet Evanovich, Liars and Thieves (Tommy Carmellini Series #1) by Stephen Coonts and A Time to Dance (Timeless Love Series #1) by Karen Kingsbury, and many more. NOOK for Windows 8.1 customers can simply scroll to "Shop Popular Lists" in the app to find and download these great titles for $2.99 or less."
While the complete description of the updated and enhanced features can be found HERE, some of those features include better search capabilities, the ability to sign in through Microsoft accounts, the ability to import ePub and PDF files directly from the users' SkyDrives, and much more.
Mercy Pilkington is a Senior Editor for Good e-Reader. She is also the CEO and founder of a hybrid publishing and consulting company.