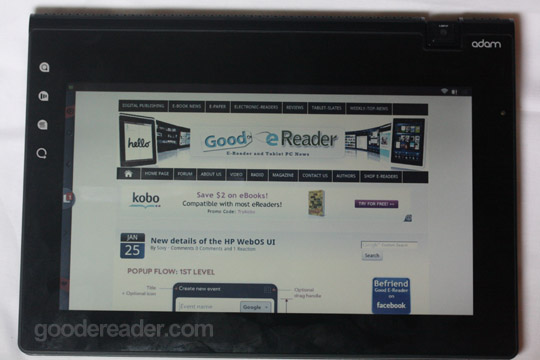 Many people who are early adapters of the Notion Ink Adam have been sending us emails, commenting on various forums and petitioning on our Youtube channel for many answers to common questions. We will endeavor in this article to explain some of the most common problems you will have and solutions to them.
Why is my Picture Quality not so good on the Adam Camera?
Many people who have purchased the Notion Ink Adam are wondering why their pictures they have taken with the device looks grainy and pixelated. This is due to the fact that the Adam camera has a very small plastic layer on the camera to protect it in shipping. When you dig your fingernail underneath the film of the camera and peel it off the Adam the picture quality will be greatly enhanced. You will finally be able to strike a pose and take some pictures with the 3.1 MP 185 degree swivel camera.
Why does my Adam Crash or Programs not look right?
This is due to the fact of not loading in the update that Notion Ink provided its users to unbrick their device with the buggy over the air update that was issued, and then quickly pulled down. In the update that unbricks your unit contains new files for your device that will greatly enhance your overall experience with the Adam. It will not fix every issue we have reported on thus far, but will help. You can download the files and read the installation guide HERE.
I want to read eBooks! What do I do?
The production model of the Adam we have did not come with any eBook readers or any programs that are meant to read popular ebook formats. There are many Android applications available from many popular stores such as Amazon, Sony, Barnes and Noble, Kobo, Borders and others. Recently we wrote an article on Google Android Market Alternatives, you can find direct downloads to all of those applications. Its as simple as copying the APK files you downloaded to your USB drive or MicroSD card and then launching the files with the Sniffer File application that comes with your Adam.
If you want to load in your own eBooks there are a few Android Programs you might want to get if you find yourself downloading ebooks from various websites on the internet. If you are looking to read MOBI ebook formats you want to get FBREADER that will read those formats via MicroSD card. If EPUB formats are your thing you can download an application named Cool Reader and copy the ePub books to your Micro SD Card. If you want to read PDF files and do not want to deal with the Quick Office version of PDF Reader which is proven to be a bit buggy you want to download Adobe PDF Reader.
If you have followed our tutorial on how to Root Your Notion Ink Adam you can instantly download any of these applications directly to your device, without having to manually load in APK files from the internet.
There is a black bar, blocking the top of the text on many apps
This is a very common problem where the top half of any field of text near the top of the screen will be cut off by the black Google Android Bar. This is the bar that contains your WIFI information, time and applications you might have downloaded. You might notice there is a blinking green light. You want to tap on this light and it will draw the bar into it and give you an acurate display of how much battery life is left.
Quick Office does not load properly!
It seems with the current version of Quick Office and the Adam is that it does not create new documents, spreadsheets or project files for you to go about instantly creating.
There are two things you need to do in order to get these applications working correctly. First of all, when you load the programs it gives you list of directories and files and say its scanning an MicroSD card. In effect it is not scanning those drives but the devices own internal memory.
To be able to start creating or editing a document you need to copy a document in .doc format and copy it to your portable USB drive or your MicroSD card. The Quick Office version of Word does not scan these two drives to open files. Instead you need to load the Sniffer application and navigate to these drives. If you click on a .doc file it will tell you that this format is associated with Quickoffice, when you click on the application the file is associated with it will open the document using the program. Your other option to open documents is to open the docs in the Adams own internal memory by hooking it up to your PC via Mini USB cable.

Michael Kozlowski is the Editor in Chief of Good e-Reader. He has been writing about audiobooks and e-readers for the past ten years. His articles have been picked up by major and local news sources and websites such as the CBC, CNET, Engadget, Huffington Post and the New York Times.