Early adopters can rejoice that both Windows 8 and the Microsoft Surface tablet came out on the same day. This is the RT version of the tablet, which means it can only run the new Metro style apps that were written specifically for this version of the tablet or native Windows 8.
This is a very new OS and the entire ecosystem went from 4,000 apps to 9,000 in the first 24 hours of the official launch. How does this tablet showcase the latest iteration of Windows and how does the hardware match up to the competition?
Hardware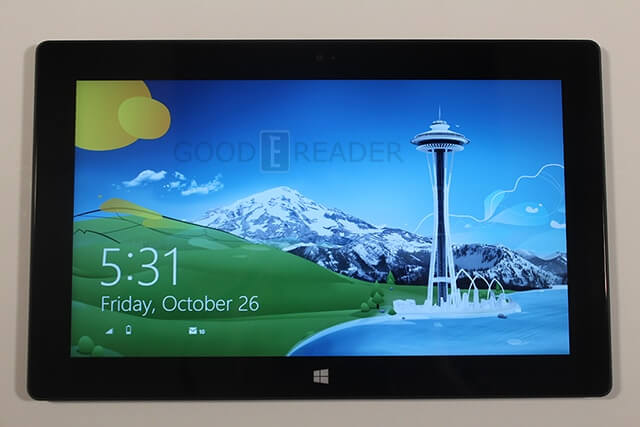 The Microsoft Surface features a 10.6 inch touchscreen and a resolution of 1366×768 pixels. It features true 16:9 aspect ratio, which means watching 1080P movies are a reality with many streaming apps or your own movies.
The tablet itself is much larger than most of the other mainstream ones on the market. The iPad only has a 9.7 inch screen, but packs a way higher resolution. We have a comparison video we shot today with the iPad with Retina Display and the Surface tablet, so check it out on our YOUTUBE Channel.
The Quad-core Nvidia Tegra 3 ARM processor is fairly fast and tends to run the native Metro apps really well. There are 2 GB of RAM, which elevates its performance significantly more than most other tablets on the market.
There are twin cameras and two speakers! You can record on the rear facing one up to 720 P and it also takes really solid pictures due to the LED light. The front facing one is mostly used for Skype or various other video conferencing apps.
Sure most tablets out there have stereo speakers and twin cameras, but the Surface HD has a Micro HDMI and a full on USB 2.0 port! This way you can hook up flash drives or even a high volume storage portable hard drive. I like it this way because you can really hook up tons of media! The Surface only comes in 32 or 64 GB variants if you want the accompanied keyboard. There is also a high capacity Micro SD to increase the memory further that can expand up to 64 GB.  Let's face it, the average person has terabytes of data on their local PC's and all the options to boost the memory on the Surface makes it a viable professional and consumer tablet.
On the back of the tablet is a kickstand that you can use to prop it up. This might be useful on a flat surface, but is not practical when it's sitting on your lap. The sides of the tablet are not quite rounded, but have strong angles on the design. In conjunction with the kickstand and weird curves, after holding it for more than an hour it started to really dig into my hands. We noticed when the kickstand was up it started to scratch our filming surface. This led us to believe that if you have it on a very expensive tablet, it could really mess it up over a few weeks.
You can tell Microsoft put a ton of effort into the overall design of the tablet. It feels like the least generic non-iPad we have ever reviewed.  There were over 200 parts custom designed just for this model. There isn't a single battery, but a few spread over the inside to give you even weight distribution.  You will get around 9.12 hours of battery life and it only takes around one hour to charge it. The DC adapter that ships with the unit is much akin to the kind the Mac Book Air uses. It's magnetic, but the attraction between it and the tablet is not very strong. It seems OK to continue to use the tablet as it's charging if it is on a flat surface, but becomes impossible while on your lap.
Software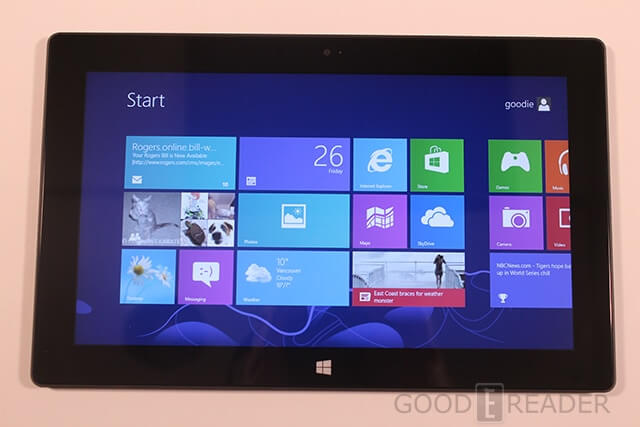 Windows 8 feels really polished and it is important to note that the Microsoft surface does not run X86 or X64 apps. It really just runs the ones custom written for Windows RT. If you want to run legacy apps or games like Diablo 3 or Star Wars – Old Republic, you will have to wait for the Surface Pro.
Windows 8 could be a review unto itself. Suffice it to say it takes getting used to if you have used Windows all  your life. There is only a single home key on the tablet, mainly to bring you Home or when double clicked it brings up the last program you accessed. This is a very gesture heavy device and all of the main interactions are so unlike any device shipping with  QNX, iOS, or Android.  It's a combination of swiping on the bezel in different directions to access different functions. For example, if you swipe downwards you will bring up different aspects of a program, and depending on what you use, it varies a lot. If you swipe from left to right, in most cases you will bring up the typical side-bar that gives you the ability to search or access your WIFI, Brightness, Resolution, or other things. Swiping downwards or upwards will bring up a list of current apps and sometimes other random things. It took around 12 hours of constant use to get the hang of Windows 8 on a tablet. It is very unlike the Windows 8 PC experience, but visually is the same.
There are a number of apps that are bundled with the Surface, all Microsoft branded. You have Bing News, Maps, Video, Sports, and tons of other things. All the native apps are really polished and look very vibrant.  Most of the 3rd party apps are buggy at best and crash at the worst. The ones Microsoft designed themselves work like a charm and even IE shines, which is quite odd to say the least.
There is a ton of integration with Windows 8 if you are an XBOX user with an extensive profile and track history of playing games. Most of the Games, Video, and Music are all basically tapping into the XBOX ecosystem.  So bear in mind that you will be prompted to enter your username and password often. One of the new apps just released today was Microsoft Smart Glass, which basically allows you to browse and navigate your XBOX as an extended controller. I could see this being more user friendly than the generic controller that everyone uses.
One of the cooler aspects about Windows 8, that you initially saw in Mango phones, was the live tiles. If you have pictures, email, Skydrive, Maps, Weather, and other things all set up, you will see things scrolling as they're updated.  This ensures that even when idle or AFK, you can get a sense of how a bunch of different things have been updated over time. This is useful if you are a Facebook, Twitter, LinkedIN, or social media fiend. Everything shows up right on your desktop, without having to open up singular apps like you would on Windows OS prior to 8.
Things tend to change drastically when you start downloading non-Microsoft apps from the online app store. There is plenty of content to be downloaded on launch day, which is around 9,500 fully featured apps. Most of the ones we all tested had one problem or another. Since we are Good e-Reader and focused more on the reading experience than anything else, most programs crashed, loaded super slow, or did not display any content at all.
One of the hidden blessings on Windows 8 would be the mainstream games that you will buy or download for free. Cut the Rope,  Jetpack Joyride, or that Sushi game all work super well. It is the same type of fluid gameplay and graphics that you would expect out of the Android or iOS devices.
It seems most of the problems we had were with all applications. Even mighty Netflix was stuttering left, right, and center. Movies tended to play super fast, then slow down and have awful graphics.
The Microsoft Surface honestly is an awesome piece of hardware. It is the flagship of Windows 8 and has tons of upsides in terms of what it brings to the tablet. It is hampered by the under-performing apps, but this is to be expected on day 1. I remember when I first reviewed the iPad 1 and most of the apps were just iPhone apps or ones that had scaled graphics. It took around a full year for developers to catch up to the new OS and screen size, and there were severe growing pains. This is the conundrum that Microsoft Surface faces, developers really are facing a brand new OS with problems not solved by the community or other developers. Everyone is just learning it as they go along, and this is why being an early adopter is really hard.
Reading Experience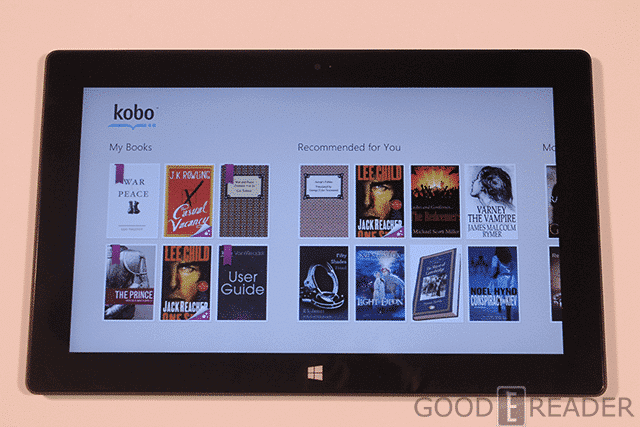 You might remember a few months ago when Microsoft invested 300 million dollars in Barnes and Noble. The agreement ironed out that the Nook Reader software and expansive ebook library was to be integrated into the Surface tablet and Windows 8. Currently the Nook app is nowhere to be found. When asked about the missing Nook app, Barnes & Noble said in a statement that it looks forward to "launching the best reading experience and an expansive digital bookstore on Windows 8 within weeks." Windows 8 is the new operating system in use on the tablet.
There are honestly just a few mainstream apps currently offered that allow you to both buy and read books. Amazon and Kobo both have the most developed ones out there, but there are plenty of indie offerings to load in your own books. This is useful with the surface, which functions really well as a dedicated e-reader. You can also download plenty of RSS type apps or even the Engadget Windows 8 app.
Amazon gives you a fairly full experience, but struggled at times when you were quickly turning pages. On most of its e-readers and tablets, when you edited the fonts, font sizes, line spacing and margins, everything would dynamically update. In this version a very small preview window appears over the text editing tools that gives you a very small indication of how your changes will look. You have to click on the save button to ensure your new settings will carry over to the book you are reading. You do have a few options to take notes and make highlights, but most of the social media has been stripped out. The coolest thing you can do is listen to an audio version of the word you are looking up in the dictionary. Any past purchases you made from Amazon would be stored in the cloud and can be downloaded straight to your Surface.
Kobo has a fairly respectable app and gives you a very unique and interesting homescreen. It currently looks better on the Surface than it does on the iPad, Android, or the Blackberry Playbook.  It shows you what books you own and also what books are featured. Unlike the Amazon app, where just opens up their web version, you can buy books from Kobo directly within the app. When you open a book for the first time you get this small little 4 panel preview on how to use the app. On the Surface this crashed us a few times and the panel areas to click on to proceed are SO SMALL! It took as five minutes to get it to work properly.
When you use Kobo on Windows 8 PC, you have to hold the mouse buttons to bring up the settings menu. On the Microsoft Surface you have to gesture downwards from the top of the bezel. You have the same type of scroll wheel to control the size of the font as we saw on the Kobo Glo and Kobo Mini. The company is trying very hard to provide the same type of tools and user experience on all of its apps and hardware.  There are only 4 different font options to change the type. There are only a few other options to tweak your margins and background. Unfortunately, there is no Reading Life or Kobo Pulse built into Windows 8, so Kobo's famous social reading program is nowhere to be seen.
DC and Marvel for Comic books are lacking on the Windows RT Surface Tablet! The only option you really have for mainstream apps is Comixology! It is a fairly solid app, but is rife with bugs. You can open up comics and use pinching and zooming to give you the best reading experience. There is also the Guided View technology that will go from panel to panel and give you a full page version of it. When you pinch and zoom, you can't turn to the next page and if you try, it simply pushes the image completely off of your reading pane. Another AWESOME bug was the fact that you could pinch and zoom as much as you want. We spent 2 minutes trying to find a limit on how much you could zoom in, and we stopped when we got pixels of pixels. Our video review of this entire process will make you seriously laugh.
There is also a very spartan selection of magazine apps. Zinio has the only fully developed one, but the entire magazine has to be loaded to pinch and zoom. We also found that when you were in Text View and stripped the article of all pictures and swiped downwards, the cover art would superimpose itself over the text, making it unreadable. When we tried to make purchases it would give the Canadian rate, but after spending five minutes inputting all of my billing information it would say "This Magazine, at this price, is not available in your region." I got this for the first 5 magazines I tried and had to enter my manual information every time and eventually gave up.
Speaking of giving up. It took me two hours just to enter all my user names and passwords from Kobo, Amazon, Comixology, Zinio, all the Microsoft apps, Skype, Netflix, and many more! Yikes.
The Surface makes a damn fine e-reader! Whether you are reading newspapers, magazines, comic books, ebooks, or RSS Feeds, the 10.6 inch screen really takes graphics to the next level. There is simply more of a viewing area than most other tablets on the market. Even the iPad with its high resolution graphics can't match up to the sheer girth of the Surface.
Wrap Up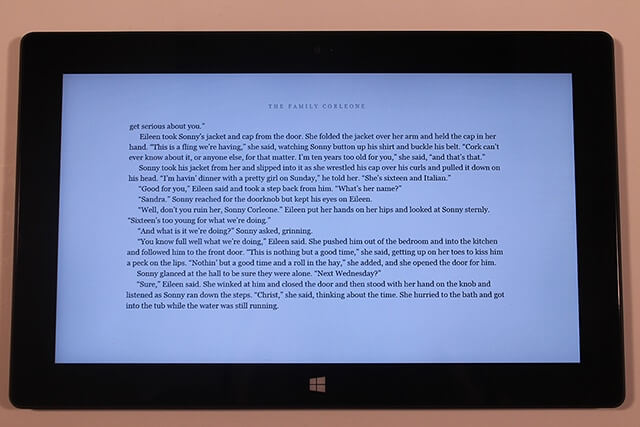 On a fundamental hardware level, there is nothing wrong with the Microsoft Surface. The only thing I would complain about is the $700.00 price tag to buy the model with the keyboard. This is seriously the most seriously excellent design we have ever seen in a tablet. Everything screams unique in the way it was crafted and looks aesthetically. If you want to stand out in a crowd of iOS or Android users, you want to rock this.
The Surface really is hampered by the 3rd party software that was made natively for it. There are ONLY a few apps that actually work with no errors. Every single other mainstream application crashes or suffers from critical bugs that make the entire experience daunting.
I think it would honestly take around three months for all of these companies programing departments to get their acts together to actually make solid apps. This will not happen anytime soon, and I would suggest you hold off buying this until the software catches up. If you look at Android or iOS, they are at the point where you can simply Google for any answer to any possible programing question you might have. Windows 8 is so fresh, there is simply an absence of proper guides and tutorials.
As we have seen in the past, it is very important for a development community to be strongly behind an operating system to ensure its success. Right now most RT apps are colossal failures and are barely working. Unless you are an early adopter with a penchant for pain, you should not buy this yet. Even Microsoft Office does not have a dedicated RT app yet, and costs money to actually use. A non-legacy version is due out in a few months.
PROS
Slick Design
USB and Micro HDMI
Windows 8 Feels Really Polished
Native Microsoft Apps Are All Very Good
Is the Windows Tablet Everyone Has Been Waiting For
CONS
Heavy
3rd Party App Quality Is Abysmal
No Legacy App Support
Kickstand Scratches Surfaces Easily
Expensive

Rating: 6.5/10 (due to apps) (8/10) on Hardware
[cincopa AMGAYDbHS0u_]