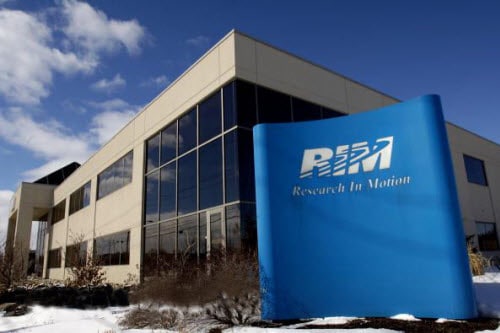 RIM announced today that they were going to lay off 2,000 people—%10 of its entire labor force. Shares of the beleaguered company promptly fell %3 when the company announced the layoffs. Share prices in the company continue to plummet as the company sank 50-60% in the last 12 months. RIM also announced Monday morning that its chief operating officer, Don Morrison, will retire. Thorsten Heins will take on his duties as part of an expanded role of COO for product and sales. Jim Rowan will become COO for operations.
This is the first time in over a decade that the struggling Canadian company has terminated a large number of people. RIM was at one time the market leader in smartphone OS, but has constantly lost ground against Apple and Google. RIM slipped from 19% of the market in 2009 to 16% in 2010 and is expected to fall to 11% in 2011.
RIM continues to be popular in Indonesia, The Netherlands, and United Kingdom due to its pay as you go plans.
Part of the reason why RIM continues to plummet is because of its outdated technology and the fact that many corporate companies are switching to Google and Apple as their phones of choice.
The Blackberry Playbook, according to PCWORLD, was supposed to revitalize the companies profit margins, but instead has been a colossal failure according to many sources. Analyst Sascha Segan went as far to say that RIM is on deathwatch. The company released a half-baked unfinished product in the Playbook earlier this year. The device has received some of the most poorest reviews out of any other tablet released in 2011. It was an unfinished product rushed to the marketplace and never caught on with the very corporate audience that RIM has cultivated over the years. It has no enterprise email system and no dedicated pushed email system.
RIM cannot cut its way to the top by severing its employees. The company continues to produce technology that pales in comparison to the latest Apple iPhone and Android phones such as the Samsung S II. Maybe RIM's saving grace can be OS7 devices to come out later next year. Unless RIMS future offerings have dual core processors and a robust touchscreen interface, I foresee doom in the future. Blackberry phones are often outdated as soon as they hit the market. The resolution is often poor and screens small. The company continues to make SOME money with the corporate crowd, but people see commercials for the iPhone 4, Droid, and other high spec phones and switch brands. When you compare the phone specs side by side with the latest and great IOS or Android phone, most people end up going with the other companies. It is getting increasingly hard for RIM to compete against the onslaught of Samsung, Motorola, LG, and Apple on the phone front and is losing the war. I just hope RIM is not lined up to face a firing squad quite yet.

Michael Kozlowski is the Editor in Chief of Good e-Reader. He has been writing about audiobooks and e-readers for the past ten years. His articles have been picked up by major and local news sources and websites such as the CNET, Engadget, Huffington Post and Verge.