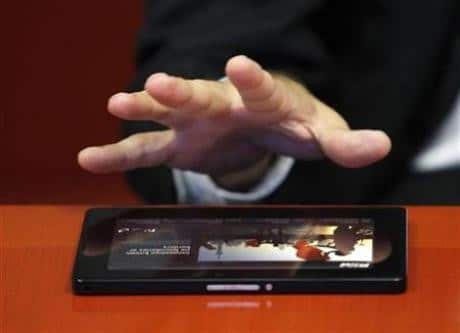 $199 is the new $499 for the PlayBook tablet device. For what was once priced at $499 can now be availed of for just $199, a price point that has just been made famous by the Kindle Fire. Also, its here that the most interesting aspect of the story lies. This since its not only the price but the PlayBook also shares a lot of similarity with the Kindle Fire. The price mentioned here applies to the base 16 GB version of the PlayBook.
In the same manner, the 32 GB PlayBook that originally retailed for $599 has also been cut to $299 while its 64 GB version is available at $399, down from the original price of $699. These prices will remain effective till 3rd December. RIM had also come up with a get 1 free for a purchase of two units last month to boost sales of their 7 inch tablets.
Now that both the Kindle Fire and the PlayBook being priced at $199 should have logically pushed the demand for the PlayBook up many notches. BestBuy has already been selling the PlayBook for the above mentioned prices and has so far received overwhelming response, particularly for the base 16 GB model.
However, the PlayBook may not be seen emulating the kind of success that the Amazon tablet has met with. This since one of the biggest drawbacks of the PlayBook is its lack of native contact, calendar and email application. This mars the popularity factor of the tablet to a large extent. Further, not many developers have ventured into the platform that this tablet uses and hence, the lack of third party applications is also felt. What should come as a consolation is that an update of its QNX operating system is on the cards with the beta version of OS 2.0 presently available for those who wish to try it out. When completed the upgrade would have addressed many of the elements lacking in the OS as of now.
Also, while the PlayBook shares a lot of specifications with the Kindle Fire, what should be kept in mind is that Amazon has built the tablet to a specific price and hence a lot of corners have been cut. A such, the Kindle Fire lacks several things that is otherwise standard on a tablet device though none of that is applicable to the PlayBook. RIM had built it as a full fledged tablet device though unfortunately, the OS was (and still is) half baked when it was released. So till RIM comes up with the much awaited update which it has stated is due not before February 17, the PlayBook will continue to be at a disadvantage vis-a-vis its almost twin Kindle Fire.

Sovan Mandal is the senior tablet and tech corespondent for goodereader.com. He brings a international approach to news that is not just applicable to the North American market, but also Asia, India, Europe and others. Sovy brings his own writing flavor to the website and is interested in Science Fiction, Technology and Writing. Any questions, send an email