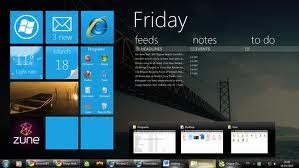 The best we knew of the Windows 8 operating system's arrival in the world computing scene is that it would be towards the end of this year. However, we are excited to report some good news; not only do we know a clearer time frame of its arrival, but it's also going to be much earlier than previous estimates. The Windows 8 OS is expected to be ready for a market debut this October. Of course, this is according to Bloomberg sources, and they have a track record of authenticity. This is the closest to an official announcement that we can get.
What also seems evident is that Microsoft has the holiday season in mind when they have zeroed in on a release date. Surely, Microsoft won't like to miss out on the holiday shopping craze which is also the time when demand for the Apple iPad usually shoots through the roof and aims for the sky. If there aren't enough Windows 8 devices by then then it would be Apple's field day and the damage would be quite substantial for Microsoft.
Also, current information further adds that the OS would be compatible with both Intel as well as ARM chips. Around forty Intel based devices, and a few ARM based devices, running the Microsoft OS are expected to be available in the market. In fact, in spite of all the hype that the marriage between Windows 8 and ARM processor have generated, latest news from Microsoft indicates a weakening of the tie, and now only three ARM based tablets will run Windows 8.
The reason for this low number of ARM based devices are the strict standards that Microsoft has laid out for its devices. They are competing with Apple in the market and therefore have mentioned that their hardware partners will be limited to just a few that have a proven track record of adhering to high quality standards.
Meanwhile, there is the Microsoft event scheduled in April which would also mark three years of existence of the Windows 7 OS. One can expect to get to know a lot about the plans of upcoming gadgets from suppliers and marketers who will be invited to the event.
In another related development, the new Windows 8 OS might also be seen running the show on our e-book reading devices as well. Kevin Turner, Microsoft's COO, mentioned he would like to see Windows 8 on as many devices as possible.
"Microsoft will be this year the first company on the planet to have a consistent UI from the smart phone to the tablet to the slate, to the reader to the rich client and to the TV with our Metro UI," said Turner, before also adding, "We know the power of getting that consistent user experience is something our whole product portfolio will benefit from."
via bloomberg, via the register
Sovan Mandal is the senior tablet and tech corespondent for goodereader.com. He brings a international approach to news that is not just applicable to the North American market, but also Asia, India, Europe and others. Sovy brings his own writing flavor to the website and is interested in Science Fiction, Technology and Writing. Any questions, send an email