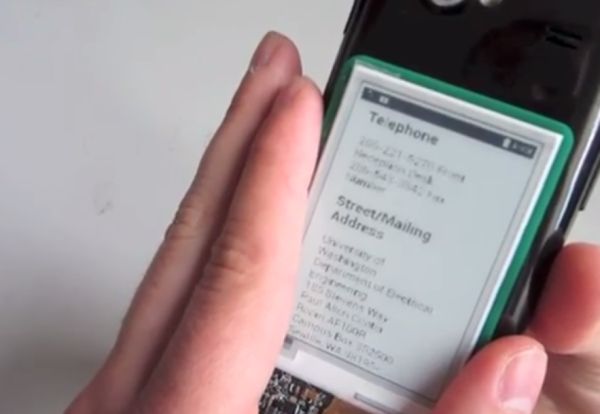 NFC is fast becoming a standard feature among the premium–as well as the not so premium–Android devices. However, while this technology enables compatible devices to transmit data simply by tapping them together, there could be other uses the NFC technology could be put to. Take for instance the recent endeavor attempted by Intel, along with researchers from the University of Washington and the University of Massachusetts, which successfully demonstrated that the Near Field Communication technology can also be used to transmit energy as well across compatible devices.
The demonstration used a NFC enabled smartphone along with a separate e-ink display wherein an image – some contact information – was successfully transmitted to the e-ink screen without the latter requiring a power source of its own. The virtues of an e-ink display are already well known as these require the least power backup, only draining the battery when showing a new image. There will be no power drawn when the same image remains displayed on the screen.
The benefits of such a setup can be immense. The secondary e-ink display can be used to display static images such as ticketing information, a map, or other data. What is even more amazing is that the e-ink display won't require a power source of its own as the power required to display the image is transmitted through NFC itself. When a new image is required to be displayed, the same can be transmitted from the smartphone via NFC. This way, one can have a secondary display based on e-ink technology that can be used to carry an image for almost as long as one might wish to. However, this is just a technology demonstrator with no mention of how the same could be put to commercial use.
Meanwhile, here is also a video of the same to let you have a better idea of it all.
Sovan Mandal is the senior tablet and tech corespondent for goodereader.com. He brings a international approach to news that is not just applicable to the North American market, but also Asia, India, Europe and others. Sovy brings his own writing flavor to the website and is interested in Science Fiction, Technology and Writing. Any questions, send an email