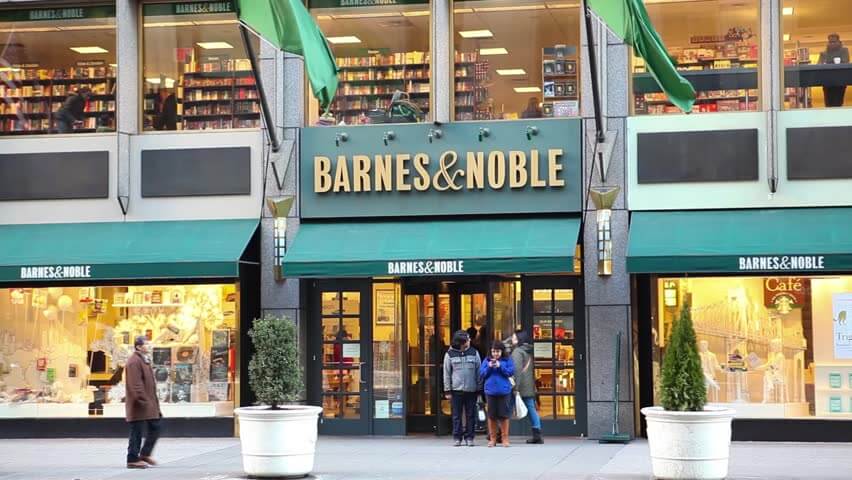 Barnes and Noble recently fired CEO Demos Parneros for violating its policies. The bookseller refused to go into detail about what the violations were. It does note that the termination wasn't due to differences of opinion or any potential fraud. He did not receive any severance pay and many industry insiders are speculating that it had to do with sexual harassment. B&N said it was going to look for a new CEO, but it is going to be a daunting task to find anyone good. They have went through four CEOS in five years and who will want to go work for them when the B&N founder Leonard Riggio continues to be the chairman of the board and fires anyone who disagrees with the 77 year old?
On Parneros' watch, Barnes & Noble continued to struggle, with comparable sales down 5.4% in the fiscal year ended in late April 2018, despite a stable environment for book sales in the industry. The company lost $125.5 million last fiscal year on sale of $3.67 billion, compared to a profit of $22 million the year before. On his watch, Barnes & Noble's already depressed shares fell 30%.
Many media outlets are saying that due to no severance pay, Parneros did not receive the preverbal golden parachute. As Chief Executive Officer at BARNES & NOBLE INC, Demos Parneros made $2,257,143 in total compensation. Of this total $398,077 was received as a salary, $1,050,000 was received as a bonus, $0 was received in stock options, $677,954 was awarded as stock and $131,112 came from other types of compensation. This information is according to proxy statements filed for the 2017 fiscal year
Before his firing, Parneros said he was optimistic about the chain's prospects and targeting new initiatives to bump up store traffic and sales. "Turnaround plans take time," Parneros said on the company's fourth-quarter earnings call in June, which was transcribed by Seeking Alpha. "And while our performance has been somewhat disappointing, we began to make steady progress in fiscal 2018."
Parneros said the company improved its omni-channel capabilities through the launch of its ship-from-store program and implemented a $40 million cost reduction program. He also said there were opportunities to expand the retailer's toys selection due to Toys R Us going bankrupt. The former CEO was looking at a smaller, more flexible store prototype with more focus on the customer experience and food. He planned to gradually roll out smaller stores with more cafes and restaurants.
Barnes and Noble has advantages
It is the last big physical retailer on the block, having outlasted Borders, Waldenbooks and just about anybody else that was in the business of selling books.
All research seems to indicate that the rise of e-books has leveled off and readers are returning to hard copies (soft ones, too), going for the physical feel of a book instead of the cold, glaring screen of a digital device.
In the first six months of 2018 print sales increased by 2% and unit sales by 4%
Other category-killer retailers like Best Buy have come up with plans to live in an Amazon world that are, for the most part, working. They're not perfect, but they are allowing physical retailers to survive and, dare I say, even prosper.
Even Amazon has come to the realization that physical stores are necessary to be successful in the book business. Just as Apple has supplied the template for many struggling retailers with its stores, so, too, should B&N be taking the best of the Amazon stores and adapting those merchandising techniques for its own stores.
What can Barnes and Noble do to turn their business around?
Industry experts say the company may face a long road ahead on the way back to health. "While Barnes & Noble has made some effort to reinvigorate itself, the results to date have been unimpressive," says Neil Saunders, managing director and retail analyst at research firm GlobalData Retail. "The main reason for this is that new ideas, such as smaller store formats and the Barnes & Noble Kitchen concept, are small drops of change in an ocean of inertia. Most of Barnes & Noble's stores feel tired, are too large and too cluttered, and do not offer the consumer any compelling reason to visit and buy. Even the Starbucks cafes, which are in most shops, are unappealing and rather dispiriting. Barnes & Noble is simply struggling to pull in consumers."
Stefanie Meyer, principal and senior vice president at retail real estate services firm Mid-America Real Estate—Minnesota, says she's seeing the bookstore do a couple of relocations and several renewals in the Twin Cities. "They're three-year, short-term renewals," she notes. "At least they're renewing and staying in place. But they all want to downsize. They're too big. If they can condense their space, I think there are still enough people who want books—not just Kindle or reading books online."
Even if Barnes and Noble where to find a new CEO with the right plan to fix things, chances are they won't stick around long enough to see it through. The next leader of Barnes & Noble will need to have a vast supply of job skills, not the least of which is to stay out of trouble.
I think the next Barnes and Noble leader will have to publicly disclose what they intend to do to turn things around. The booksellers corporate values should not be your best-kept secret and they should assault everyone on a regular basis.
Every leader Barnes and Noble has had in the last ten years, aside from the founder, has no bookselling experience and have no idea what to do with the digital side of things. The next leader has to be an evangelist and give talks at Book Expo America, London Book Fair, Frankfurt Book Fair and all of the other big shows all over the world. They cannot live in a bubble at the corporate headquarters in New York and expect to learn the business. He/She needs to get out into the world and speak with other executives at Waterstones, Thalia and other stores that successful turned their business around in the age of Amazon.

Michael Kozlowski is the Editor in Chief of Good e-Reader. He has been writing about audiobooks and e-readers for the past ten years. His articles have been picked up by major and local news sources and websites such as the CBC, CNET, Engadget, Huffington Post and the New York Times.