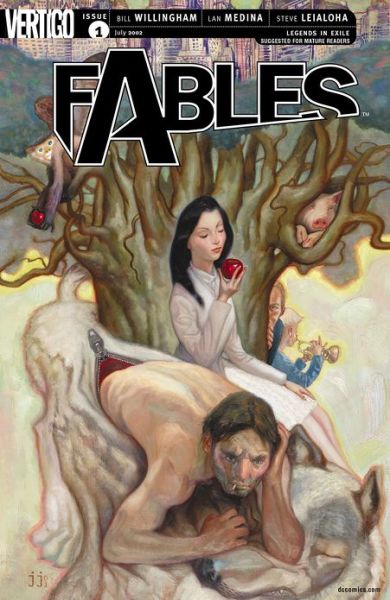 This week brings an amazing digital deal on Kindle, Nook, and comiXology: The full run of Fables and its spinoffs Cinderella, Fairest and Jack of Fables, as well as the crossover The Literals, for 99 cents an issue. This series brings fairy tale characters into the real world, after they are driven out of their own realm by a dark antagonist. What's great about Fables is that it takes familiar characters and puts them together in unexpected ways, keeping enough of the original story so that it all seems logical. Writer Bill Willingham has been constructing this complicated tale for over ten years, working with artist Mark Buckingham and a host of other creators, and there are also several spinoffs: Fairest focuses on the ladies of Fabletown, and Jack of Fables is the adventures of Jack Horner, who has grown up from a mischievous boy to an entertaining, if not always lovable, rogue. You can start with issue 1 or jump into any story arc. ComiXology's sale ends Monday night at 11 p.m.; Amazon and Nook are vaguer.
If you're in more of a superhero mood, comiXology is also holding an X-Men: Inferno! sale, offering a variety of X-Men titles for 99 cents each, but act fast, as it ends Friday night at 11 p.m.
And finally, comiXology has a good handful of Godzilla graphic novels on sale for $3.99 to $4.99 through Sunday night.
Dark Horse Digital ushers in the weekend with a Crime Sale that features an eclectic array of comics and graphic novels, including Frank Miller's Sin City, Bryan Talbot's Grandville, and the Eisner Award winning Blacksad. Sherlock Holmes, the Green Hornet, and the Green River killer also make appearances, and for those who like plenty of action, dames, and two-fisted justice, there are two collected volumes of the Golden Age title Crime Does Not Pay
No new sales at eManga, but their September Switch promotion, in which you can get a free digital manga if you start an account with them and can prove you bought a volume of manga from another digital provider, is going on through October 13.

A former book editor and newspaper reporter, Brigid Alverson started MangaBlog to keep track of her daughters¹ reading habits and now covers comics and graphic novels for Comic Book Resources , School Library Journal, Publishers Weekly Comics World, Robot 6, and MTV Geek. She also edits the Good Comics for Kids blog at School Library Journal. Brigid was a judge for the 2012 Eisner Awards. Send her an email to wordballoons@gmail.com