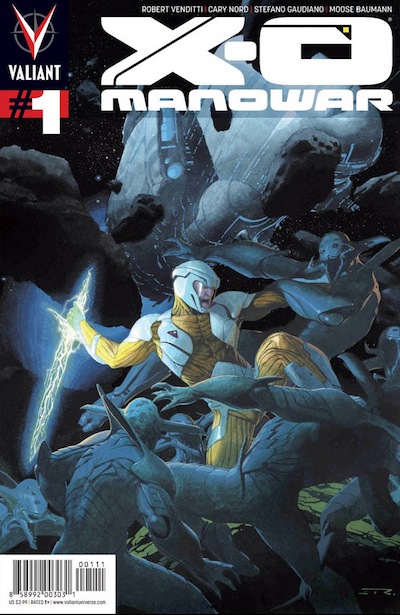 This week's top bargain at comiXology is a 99-cent sale on Valiant Entertainment comics, including X-O Manowar, Archer and Armstrong, and Bloodshot. If those names sound familiar, it's because this is the second coming of Valiant, which was founded in 1988 by former Marvel editor-in-chief Jim Shooter and became one of the leading comics publishers, second only to Marvel and DC. Eventually it was sold to a video game company, Acclaim, which went bankrupt in 2003. That would have been the end of Valiant, except that a group of investors bought the company and, after protracted legal wrangling, emerged last year and started launching new comics based on the original Valiant properties. Each one contains the seed of the original—X-O Manowar stars Aric of Dacia, a Visigoth who gets hold of the most powerful suit of armor in the universe, Harbinger is about a team of teenage psychics—but the stories have been re-imagined by new teams of writers and artists. There's a big crossover event coming up, and for those who want to jump on board, catch up, or just enjoy a bit of nostalgia, comiXology has 200 Valiant comics from both the original series and the modern relaunch, all for 99 cents an issue.
On the other hand, if you're just up for some straight-up Marvel crossover action, check out the Civil War sale—again, lots of single issues, 99 cents each—or go the graphic novel route with volume 1 of Invincible Iron Man for just $3.99, nine bucks off the regular price. All the 99-cent sales end on Sunday, and Invincible Iron Man is marked down till Thursday.
Dark Horse is featuring its original comics, with markdowns on titles like Gilbert Hernandez's Fatima, Matt Kindt's MIND Mgmt, and Evan Dorkin's Milk and Cheese, as well as all-ages favorite Chimichanga. Want to try before you buy? Check out their free Digital Originals Sampler, which contains excerpts from many of the sale titles.
Marvel Unlimited subscribers have the opportunity to purchase a selection of X-Men titles for 99 cents each; unlike the other streaming comics in Marvel Unlimited, you get to keep these. This offer is good through September.
Digital Manga continues their September Switch promotion—create an account on their eManga digital manga site, show them proof that you have bought digital manga from another site, and you get your first book free.
And that's it for this weekend. Shop wisely!

A former book editor and newspaper reporter, Brigid Alverson started MangaBlog to keep track of her daughters¹ reading habits and now covers comics and graphic novels for Comic Book Resources , School Library Journal, Publishers Weekly Comics World, Robot 6, and MTV Geek. She also edits the Good Comics for Kids blog at School Library Journal. Brigid was a judge for the 2012 Eisner Awards. Send her an email to wordballoons@gmail.com