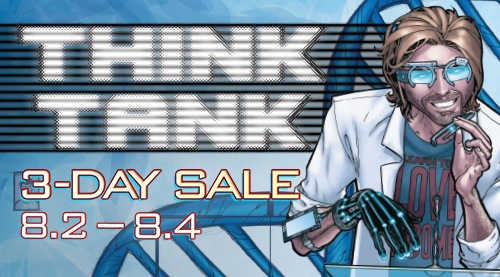 Over on comiXology, one of my favorite Image series is on sale: Think Tank, the story of rogue scientist who went to work for the military at an early age, developing sophisticated weapons, then balked when he realized the effects they had on real people. It's sort of like McGyver, if McGyver went to Caltech, smart and clever at the same time. Here's an interview with the creator if you want to know more. The first volume is only $3.99 on comiXology, so snap it up!
ComiXology's other sale is on the Flashpoint comics, including Flashpoint, Booster Gold, Legion of Doom, and more; all single issues are priced at 99 cents.
And if you want to check out Infinite Comics, which use storytelling techniques that are unique to digital, here's your chance: The Guardians of the Galaxy Infinite Comic #1 is free on comiXology and in the Marvel app. I reviewed it here a while ago. All these sales run through Sunday evening, so don't waste any time!
Take a walk on the dark side with Dark Horse Digital, which has marked down all their comics by horror writer Steve Niles, including Breath of Bones, Criminal Macabre, and Last Train to Deadsville. The comics regularly go for $2.99 or $3.99, but everything is 99 cents this weekend.
And finally, while the rest of you may not be aware of it, Thursday was yaoi day—it's a pun on the Japanese for 8-01. Digital Manga celebrated with a yaoi sale, knocking 15% off four titles on its eManga digital comics site. If yaoi isn't your cup of tea, here's another unbeatable manga deal: The first three volumes of Shuho Sato's medical manga Give My Regards to Black Jack are free, and subsequent volumes are a dollar. EManga offers digital manga in a variety of formats, including Kindle, Nook, Kobo, and a simple PDF.
A former book editor and newspaper reporter, Brigid Alverson started MangaBlog to keep track of her daughters¹ reading habits and now covers comics and graphic novels for Comic Book Resources , School Library Journal, Publishers Weekly Comics World, Robot 6, and MTV Geek. She also edits the Good Comics for Kids blog at School Library Journal. Brigid was a judge for the 2012 Eisner Awards. Send her an email to wordballoons@gmail.com