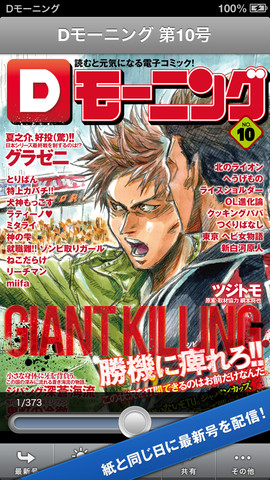 Kodansha's Morning magazine is one of the most interesting manga magazines in the Japanese marketplace. It's pitched at young adults, and the stories tend to be somewhat more sophisticated than the genre magazines aimed at young teens and pre-teens (Shonen Jump, Ribon, etc.) Many of the Morning series that have been licensed in English have been critically acclaimed, if not top sellers: Planetes, the story of junk collectors in outer space; What's Michael? a crazy cat manga that won the Kodansha Manga Award; and Masashi Tanaka's wordless dinosaur manga Gon, which has been picked up by three different publishers in the U.S. at different times.
So it's big news that Morning is getting its own digital edition, D Morning. It would be bigger news if the app was available in the U.S., but sadly, it is not; it is only available via the Japanese iTunes store (and the only language seems to be Japanese). What's more, the two really outstanding series, Naoki Urasawa's Billy Bat and Takehiko Inoue's Vagabond, won't be in the digital edition.
Urasawa is on record as not liking digital media; in an interview last year, he remarked, "None of my works are [legally] available digitally. I prefer physical books." Apparently his stance hasn't changed on that.
Inoue isn't quite as doctrinaire; his Smile, a collection of drawings that he did on an iPad and first shared via Twitter, is available as an app for iOS or Android. Still, none of his manga are available digitally, at least in English.
Despite the many omissions, the app is an important step forward for Japanese manga. Each new issue of D Morning comes out the same day as print, at a very reasonable price of 5,000 yen (about $5) per month; since it's a weekly, there are four issues per month, for a total of about 1,200 pages. This is the first real attempt by a major Japanese publisher to do same-day print and digital releases; while Americans are enjoying their digital copies of Shonen Jump, their Japanese counterparts are reading the exact same material on paper. It works because Japan, unlike the U.S., still has newsstand distribution of comics on a mass scale, so there hasn't been much of an incentive to go digital. But digital is still more convenient than print (comments on the app mention how much easier it is to read digitally on the train), and if Kodansha were to open up the D Morning app to markets outside Japan, they would probably find plenty of readers.

A former book editor and newspaper reporter, Brigid Alverson started MangaBlog to keep track of her daughters¹ reading habits and now covers comics and graphic novels for Comic Book Resources , School Library Journal, Publishers Weekly Comics World, Robot 6, and MTV Geek. She also edits the Good Comics for Kids blog at School Library Journal. Brigid was a judge for the 2012 Eisner Awards. Send her an email to wordballoons@gmail.com