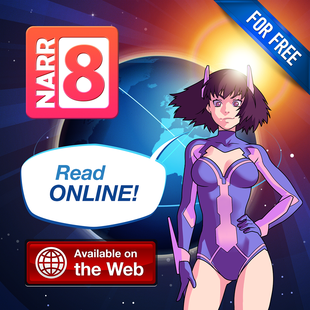 The digital comics and e-books platform NARR8 launched last November and has been downloaded 1 million times since then, on iPads, iPhones, Android devices, Facebook, Windows 8 devices, and Kindle Fire. This week, they expanded to the next frontier: The web.
NARR8 offers motion comics and e-books with an interactive component. When I spoke to vice president of business development Darya Trushkina last week, she used the term "gamification," and that sounds about right: The reader swipes or clicks and the characters move or the scene shifts. In addition, readers can earn in-app currency, called Narrs, which allow them to read more comics (the first two episodes are free, subsequent chapters are not). They can also simply buy Narrs with real money. NARR8 is also encouraging users to submit their own comics to be published on the platform.
I interviewed NARR8 CEO Maxim Matveyko about the web version and how NARR8 is working so far.
You have established NARR8 on a number of mobile platforms. What does a web app add?
By bringing NARR8 to web browsers, we've opened up our app for millions of new users on browser-enabled computers. When we launched on Windows 8 and Facebook, we had amazing results. We also saw that our content looks great not only on mobile devices, but in a browser as well,. That's why we decided to add a Web version. This makes NARR8 an completely multiplatform app available for any audience on any devices. To review, NARR8 is now available on web, Facebook, Windows 8, iPad, iPhone, Android, and Amazon.
Can this app be used on a mobile browser? Is that where you foresee people using it, or is this designed with personal computers in mind?
We developed the web version specifically for PC users—it's optimized for use on computer-based browsers. We've found that mobile browsers didn't give us the user experience we wanted, which is why we've developed separate, standalone app versions of NARR8 for each mobile platform instead.
Will the user experience be different from an app?
Users of the NARR8 web app get alternative features to zoom in on content (for example, our series are now available in full-screen view, and they look great!) and more convenient playback options to move from slide to slide. Web and Facebook users will also have more ways to make payments, since mobile platforms have their own specific methods.
Without the iTunes or Google Play stores, how will users buy new content if they choose to pay cash?
The NARR8 Web app includes many tools for making payment. Now, users can submit payments credit cards, e-wallets and many more. We also work with local payment providers—for example, in Russia, we plan to add support for the popular QIWI payment system.
How does your in-app currency work? How does that translate into real money, i.e., profit, at the end of the day?
Good question. Our own currency, NARRs, is a virtual currency that users can either earn for free with regular usage of the app, or purchase. NARRs can be used to unlock new issues and additional app features. But we discovered that many users prefer direct payments for content without buying virtual money. That's why, for the Facebook and Web versions, we decided to make it possible to pay either with NARRs or directly for real money.
You let users read the first two episodes for free, then they have to pay for subsequent episodes. How much of a dropoff do you see in readership between episodes 2 and 3 of a typical app?
We're very happy with how readers have read and continue to read NARR8's series, which are constantly updated with new episodes every week. Again, episodes are unlocked with NARRs, which can be either purchased directly or earned for free over time with regular usage of the app.
In general, the jump from free to paid is a big one. How have you made it easier (or more desirable) for your users to make that leap?
As we mentioned, while new episodes of our various series are unlocked using virtual currency, this currency can be earned for free with regular usage. For instance, we regularly offer daily bonuses, which users can spend on new episodes. We also have virtual currency sales periodically, which makes episodes even more inexpensive for the audience.
At this point, how much of your content is user-generated?
Before launching our Story Builder editing tools, we produced a lot of professional content of high quality. We did it to set the bar for UGC stories, and now, all new UGC stories are moderated before publication in the NARR8 library. Nevertheless the number of user-created submissions is increasing each day. We hope that the launch of the Pro Editor, which will offer full-featured tools to serious content creators looking to make professional-quality content, will empower ambitious users to create even more fascinating and involving stories—which will mean even more high-quality content for our readers.
Do you pay users for that content?
We find users who create interesting, high-quality content and, where applicable, may offer a contract to distributing their stories on our platform with a revenue sharing model. We cooperate with professional artists, authors, and creators of interactive content and give them favorable conditions to let them produce and distribute their best content for our readers.
What sort of a balance are you looking for in terms of user-generated vs. your own content?
Our main purpose is to become the most convenient publishing platform for interactive stories. The Pro Editor will offer ample opportunities for serious creatives to build and distribute their content for a huge number of users on a variety of devices…as well as on Facebook and Web.
How did you arrive at the figure of 1 million users? Is that the number of people who have registered?
We have 1 million users who have installed and use NARR8 on their devices. We're growing rapidly, having already reached top positions on the Russian and US Apple App Stores. We're also very excited about launching the web version—we're sure that it will bring us a new audience.
What direction do you plan to take with NARR8 in the immediate future, and what is your long term plan?
We are actively working on updating the app's layout and visual design to make it more user friendly. We'll also be making updates on payment solutions as well. In addition, we're already working with huge copyright owners who produce traditional books and comics to help make their content come alive with interactive features and get them published on NARR8. In the future, we see NARR8 as a powerful tool for creating, publishing, and distributing interactive content.

A former book editor and newspaper reporter, Brigid Alverson started MangaBlog to keep track of her daughters¹ reading habits and now covers comics and graphic novels for Comic Book Resources , School Library Journal, Publishers Weekly Comics World, Robot 6, and MTV Geek. She also edits the Good Comics for Kids blog at School Library Journal. Brigid was a judge for the 2012 Eisner Awards. Send her an email to wordballoons@gmail.com