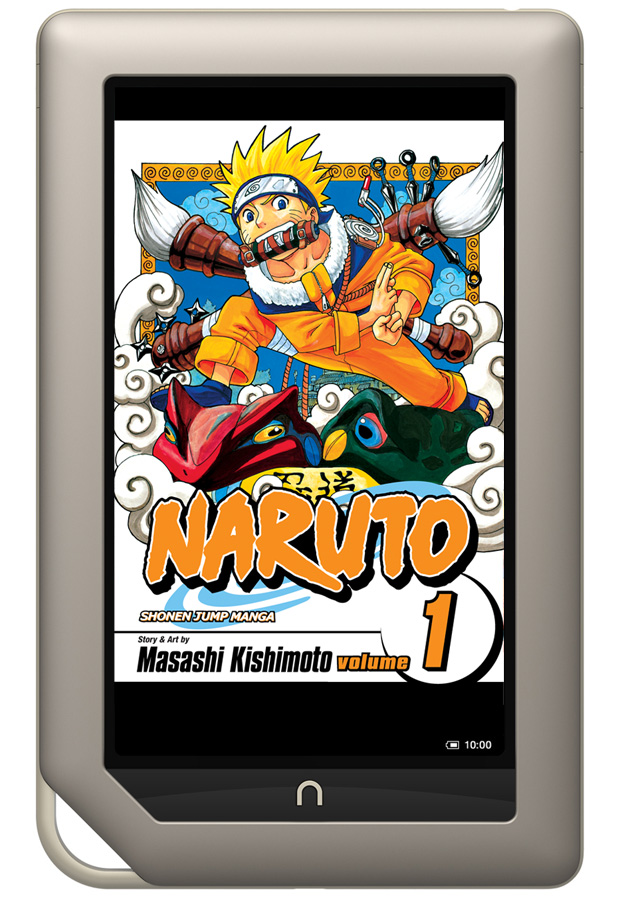 A few days ago, as Michael noted, JManga announced it is shutting down. The significance for many users was grave: Since JManga was a streaming site, most of the users will lose access to the manga that they paid for when the site goes dark on May 30. It's unfortunate, as JManga offered a lot of quirky, interesting books that probably wouldn't succeed in print.
There's still plenty of manga out there for your e-reader, though, and unlike JManga's selection, it's downloadable.
Barnes & Noble has a robust selection of manga for the Nook. Viz, Yen Press, Digital Manga Publishing (DMP), Seven Seas, and Manga University all publish manga for the Nook. Check before you buy, though, because not every book is available on every platform; some are available only for certain devices or apps. Amazon and iBooks also carry manga, but Barnes & Noble seems to have the most robust selection.
Viz is the largest manga publisher in the U.S., so naturally they have the largest selection of titles available digitally: Action stories like Naruto and One Piece, romances such as Vampire Knight and Hot Gimmick, classics like Neon Genesis Evangelion, and arty titles like Natsume Ono's Tesoro and Taiyo Matsumoto's GoGo Monster. Most single volumes are priced at $4.99, and omnibuses are a good value at $8.99 to $9.99. Viz also publishes the digital magazine Shonen Jump, which carries new chapters of an assortment of manga released the same day they come out in Japan. The Viz app is available for the web, iOS, Kindle Fire, and Android. Yen Press and Kodansha Comics have their own iOS apps, and Dark Horse has web, iOS, and Android apps as well.
ComiXology doesn't have a huge selection of manga, but what's there is pretty good. Here's their manga page; their most noteworthy titles are Hetalia: Axis Powers, the classic Cyborg 009, and a wide selection of volumes from Digital Manga Publishing (DMP). Prices vary widely; Hetalia is 99 cents per chapter (and the first chapter is free), Cyborg 009 is $4.99 per volume, and the DMP books are all over the place, from $2.99 for the shoujo manga Mizuki to $9.99 per volume for their yaoi titles and Vampire Hunter D. ComiXology has the advantage of being available on multiple platforms, including the web, iOS, and Android, so you can sync across different devices.
eManga (Warning: May not be safe for work) is DMP's own website, and it carries a wide selection of Digital's own titles (mostly yaoi manga, with a sprinkling of shoujo as well as the flagship title Vampire Hunter D). Digital gets singled out for special mention because unlike all the other apps mentioned, they offer DRM-free downloads in PDF or a variety of other formats. Digital offers a lot of titles at a wide variety of prices. However, the reason for the NSFW warning is that they also carry hentai (erotica) and photo magazines of models, which they mix indiscriminately among their other titles, many of which are teen-friendly. Plus their crowded site design is a little hard on the eyeballs.
GEN Manga offers alt-manga in a variety of genres at a very affordable price, and everything they publish is a downloadable PDF. Until recently, their flagship title was a monthly magazine, but that has been put on hiatus. They are still publishing single volumes of manga, and they now have a monthly manhwa (Korean comics) magazine.