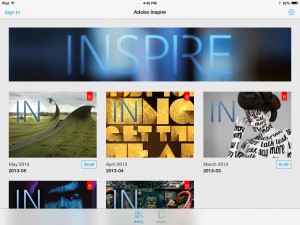 As digital magazines optimized for tablet and smartphone reading continue to enjoy a surge in growth, publishers still have to concern themselves with being able to accurately demonstrate to their advertisers that readers can–and do–interact with their ads. Adobe, the creators of the flagship Digital Publishing Suite that a wide variety of publishers use to create their digital editions, announced this week that it has collaborated with a team of industry professionals to build a standard for metrics.
According to a press release, "The standardization of initial audience and engagement metrics was accomplished in collaboration with leading magazine publishers, MPA – The Association of Magazine Media, Adobe and the American Association of Advertising Agencies (4As). Adobe's implementation was audited by the Alliance for Audited Media (AAM, formerly known as the Audit Bureau of Circulations). The methodology will empower accurate and consistent industry-wide benchmarking for publishers, a significant first step toward developing a measurement model that will help drive increased digital advertising spend and continued confidence in ad buys."
Lynly Schambers, Group Product Marketing Manager of Digital Publishing at Adobe, spoke to Good e-Reader about why a move towards this type of consistent measurement standard is so important to the publishing industry.
"People want to consume content like their favorite magazines [on these devices]. One of the reasons publishers are interested in digital editions is they offer targeted advertising opportunities to brands and marketers encouraging them to invest media spend in mobile. There's opportunity to facilitate increased ad-buying transactions. On the flip side, marketers want to take advantage of these targeted ad-buying opportunities."
As digital editions continue grow in popularity, a "measurement environment" becomes all the more important. It's not enough to make content available on tablets, it needs to be the right kind of content for each reader. Marketers need to understand who is reading the digital versions of publishers' works so that they can ensure their advertising budgets are being wisely targeted to consumers reading a publisher's magazine on a mobile device.
Until now, there has been no magazine industry standard for measuring audience engagement with digital content, so marketers basically had to make educated guesses on the potential effectiveness of their latest campaigns. By working together with these publishing entities, "the methodology will empower accurate and consistent industry-wide benchmarking for publishers, a significant first step toward developing a measurement model that will help drive increased digital advertising spending and continued confidence in ad buys…The metrics enable publishers to measure the total number of tablet readers per issue, total number of sessions per issue, average amount of time spent per reader per issue, and average number of sessions per reader per issue."
"The task force came up with the recommended measurement approach," continued Schambers, "metrics have to be understandable from a business perspective."