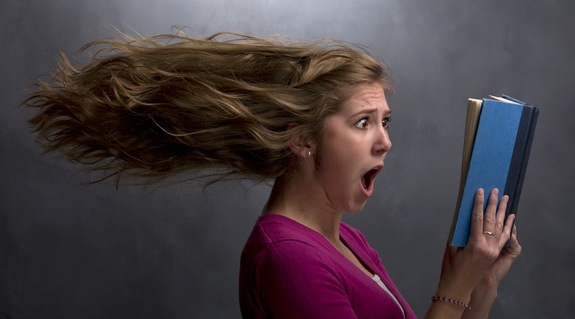 "Substitute 'damn' every time you're inclined to write 'very;' your editor will delete it and the writing will be just as it should be." –Mark Twain
One of the recent controversies in publishing involves the creation of an app called Clean Reader that has authors of every level crying censorship. Built by two parents who claim their daughter was upset by the amount and level of profanity in a book she was reading, the app takes an ebook and "filters" out the naughty words with three levels for the reader to choose from. Readers can decide that "damn" is okay but not "f***," for example, all the way up to the strictest setting that will filter out biological terms for human genitalia.
Personal feelings on sheltering one's children aside, it's important to understand how this is not censorship. First, nothing about the original manuscript is actually changed. The author's original work is still available for sale elsewhere; this would almost be akin to an app selling a translated version of the book, since the author himself cannot speak or write in Swahili and someone else decided what words would appear in the file. Second, by definition censorship requires a larger-scale effort than one reader choosing to read a version of the book with the profanity removed. If the government required the profanity to be removed in order for the book even to be published, that would be censorship.
The debate on both sides has been very interesting. Supporters of the app have stated that this is simply allowing choice for the readers, and that audiences who would have avoided the author's work entirely for its word choices can now support the author and take part in the dialogue about the book. Other supporters have pointed out that this was a parent-driven effort, and that we should applaud these parents for not taking the typical route of complaining to the school and having the book pulled from the shelves. They didn't interfere with other children's enjoyment of the book, they simply provided an avenue (at their own expense) for their daughter to read roughly the same books as her peers–with their same tones, plots, and themes–without having to wade through words that the child herself found objectionable.
Where things got tricky was in the selling of the books through Clean Reader. Basically, the app isn't capable of taking any document in any file format and simply replacing certain words. The book has to get the "cleaning" treatment and then be available for sale. While supporters can easily take the stance that authors should be grateful for any sale they get, this did irk a number of authors, and for good reason. It's one thing to filter a book at the reader's discretion, as that would be like flipping past the sex scenes in an erotica title to get to the story. It's something else altogether when a bookstore owner rips out the pages that contain "smut" and then sells the book on her shelves with the claim that it is "clean."
The saddest issue in this controversy is the argument that profanity in published books is a fact and that readers should have to simply put up with it because that's how the author wrote it; the point was even made that the couple who developed the app are "sheltering" their daughter from the real world by not letting her read books with bad words in them. Critics of this app have basically said the authors' craft is more important than the readers' sensibilities. This would be far more understandable a concern if most consumers knew how much an author's work is stripped away in the editorial process by major publishers, and then understood that self-published authors often chose to pursue indie authorship because random gatekeepers had deemed their book wasn't fit or worthy enough for mass market publication. Telling an author that there's now one more level of censor before the book can be read can sting.
Unfortunately, there's a middle ground that could be reached, and neither side has looked for it. The answer may not be simple, of course, but nothing like this ever is. This app could have been incredibly helpful for teachers who wish to support indie authors or who wish to use controversial titles in their whole-group class instruction, but instead that tool is no longer available to them as the Clean Reader developers have ceased selling books through their app's bookstore for the time being. Consumers who flocked to Clean Reader have also been left with a bad taste in their mouths over the idea that their dollars aren't good enough–even for self-published authors who arguably could use the money–if it means taking out a few cuss words.
Mercy Pilkington is a Senior Editor for Good e-Reader. She is also the CEO and founder of a hybrid publishing and consulting company.