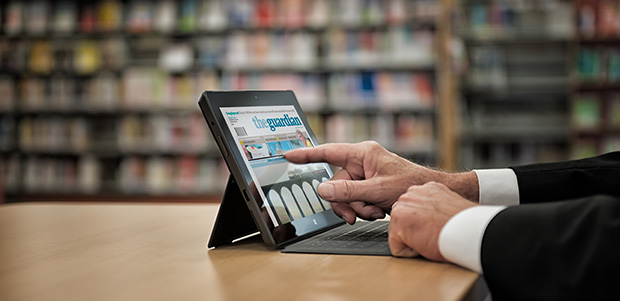 Just as publishers and book retailers compete for reading consumers' time and funds, so too do digital content providers compete for the all-important library market. Companies like OverDrive and 3M Library System work to offer the largest catalogs of content, the most seamless patron experiences, and the most support in terms of technology and taking some of the circulation tasks off the backs of the already stretched-thin library staff.
OverDrive, whose ebook borrowing app continues to be the top-rated large-scale lending app by iOS and Android users, has enjoyed a fairly solid run as not only a content provider to academic and public libraries, but also in other ways. The company has pioneered ebook lending innovation, worked to bridge the gap between the libraries and the publishers, and introduced higher-than-ever numbers of not only ebooks, but digital audiobooks, foreign language titles, and more.
But a recent announcement from ProQuest seems to state that the company is going after the library market in an even more focused way, seeking to become "the 'go-to' ebook source for librarians and users." While ProQuest is by no means a new player in the library space, it has until now been largely associated with research technology, and less with ebooks.
According to a press release from ProQuest about the new platform, ProQuest Ebook Central:
"Designed using the strengths of the EBL and ebrary platforms, ProQuest Ebook Central will feature a user-centered design that will improve ebook research and management experiences from end to end. Product engineers are working in close collaboration with researchers and librarians to create an exceptionally responsive resource."
The new platform will focus on a better experience for library patrons–especially with regard to the device compatibility–as well as easing some of the workload on librarians.
"The patron interface for ProQuest Ebook Central and the ProQuest Ebook Central Reader™ will be based on ebrary's fresh, modern reader. It will span the breadth of patron requirements, from discovery to reading to bookshelf. The reader was recently redesigned, setting a new standard for operability for all users. Device-neutral, the reader offers a robust experience for online reading.
"The librarian portal—ProQuest LibCentral™—will be based on EBL's popular, newly rebuilt LibCentral administrative module. It will support discovery, selection, acquisition, customizable management and analytics of ebooks. LibCentral offers a powerful set of tools to simplify the workflow surrounding ebooks; from streamlined acquisition to customizable administrative tools, support for all access models, real-time usage and expenditure analytics as well as built-in interoperability with key vendors."
While the program has been in the works for some time, the company expects to launch in beta in the near future.
"ProQuest will announce in early 2015 the launch of a beta program for ProQuest Ebook Central. A stepped rollout of the fully integrated platform will follow. The ProQuest ebooks team will be employing a consultative, step-by-step launch for the new platform, working closely with libraries to ensure a seamless transition for all ebrary and EBL customers and users."
This announcement comes at a time when consumer-library engagement is more important than ever. Libraries are seeking new ways to remain relevant in the point-and-click purchasing era, and are relying on digital offerings like ebooks, digital magazines, and digital newspapers that can be accessed through a remote app to keep their patrons engaged.
Mercy Pilkington is a Senior Editor for Good e-Reader. She is also the CEO and founder of a hybrid publishing and consulting company.