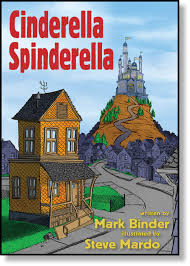 Verdict: 4 Stars
When you're up for a digital book innovation award at the Digital Book World Conference and Expo and you lose out to the powerhouse that is Scholastic, Inc., that's still pretty impressive. Fortunately for Light Publications and their ebook Cinderella Spinderella, what makes their book great isn't just the full-color illustrations, audio read-aloud, realistic page turn, or any of the other typical things we've come to expect from enhanced ebooks. What makes this title so great is how much thought and effort the creators put into the actual representation of the story.
Exhibit A: Cinderella is in a wheelchair, something that her evil stepsisters laugh at her for. Then the fairy godmother–who is actually a homeless woman–shows up and dresses Cinderella in a magical black garbage bag.
Exhibit B: When Cinderella does get to go to the ball, obviously…well…she can't dance, at least not on those ridiculously impractical glass slippers. But the prince is so intrigued by her that they sit and play cards all night, talking and getting to know each other (no silent staring into each others' eyes and not speaking…looking at you, Disney).
Exhibit C (and the most profound thing of all): With the download of this one book, the reader gets to pick Cinderella's and the prince's ethnicities, a fact that makes me prouder of Light Publications than I have been of any other digital publisher in a long time.
Along with other bonus features, this book is an educator's dream and is sure to delight any reader. The need to download the book to a computer or laptop first and then transfer it over to the phone or tablet was a minor annoyance, a factor that hopefully the creators will take into consideration down the road. But overall, the book and its 25 possible story versions was pure genius that speaks to readers of any background.
Cinderella Spinderella is available at lightpublications.com/dropcard.
Mercy Pilkington is a Senior Editor for Good e-Reader. She is also the CEO and founder of a hybrid publishing and consulting company.