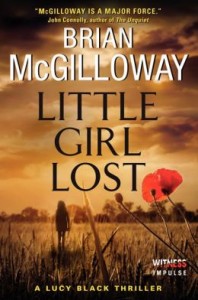 Verdict: 4 Stars
Mystery writers have a whole new audience to write for considering the number of crossover fans who are picking up thriller titles today. McGilloway doesn't disappoint, considering this title has elements of literary fiction, family relationships, current thematic elements, and even travelogue.
D.S. Lucy Black is investigating a missing girl case for the Northern Ireland Police Department when she accidentally finds an entirely different missing girl, alone and wandering in the cold. The girl cannot tell police what happened, and seems to be unhurt despite being found covered in blood. As important as the case is, though, Lucy's own personal life keeps disrupting her work, with both of her divorced parents having career histories in law enforcement.
One thing that may be a put off for die-hard thriller fans but may actually appeal to the crossover fans is the pacing. While there are intensity moments, the story doesn't move too quickly, and actually drags just a little bit in places. The abundance of characters involved in both missing girls' stories can make it a little hard to follow in places, but having a notebook handy might help.
One way in which this story is somewhat out of the ordinary is the personalities that come through in even the most hardened characters. Mystery fans might appreciate the depth of development that McGilloway attributes to these seemingly ordinary characters.
Mercy Pilkington is a Senior Editor for Good e-Reader. She is also the CEO and founder of a hybrid publishing and consulting company.