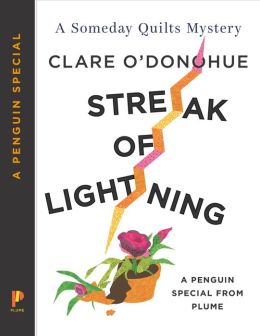 Verdict: 5 Stars
The delightful thing about O'Donohue's book is not just the charming premise of a local girl-sleuth who solves crimes out of her grandmother's quilt shop with the help of a motley band of elderly quilters. That's certainly pleasant enough, as is the small Northern town of Archer's Rest, where the Someday Quilts series of mysteries takes place. What makes Streak of Lightning–its name derived, like the other books in the series, from the quilt pattern main character Nell Fitzgerald is working on at the time–so fun is the way it was created.
Plume, the division of Penguin who has published O'Donohue's other titles, is releasing Streak of Lightning as a stand-alone ebook-only title, a short, fun read to tide fans over until the author's next full-length mystery novel in the series is released mid-fall of this year. At only $2.99, it's meant to pique readers' curiosity about some of the town's other characters, while still demonstrating Fitzgerald's sleuthing skills and introducing other less developed story lines that just haven't been presented in the longer works in the series.
In this e-short, Fitzgerald and her boyfriend, police chief Jesse DeWalt, actually make it as far as Grand Central Station to ring in the New Year in New York City, only to be called back to Archer's Rest the moment the train pulls in. Joe Proctor, the notoriously despised and nearly violent town bully, is dead. Not just dead, but dead in a jail cell back in Archer's Rest, having been put there by DeWalt himself only hours ago for assault. The couple races back to a town that is all about pointing fingers, since practically the entire population of the rural town had been Joe's victim at one time or another.
Fitgerald rallies the ladies of the quilting community to investigate before the state can pin the crime on the only person with Joe at the time, the officer whom he had assaulted earlier that afternoon. Armed with bolts of fabric and massive chocolate cakes, the quilters-turned-detectives have to solve the case before Officer Greg's future plan for a career with the FBI is ruined by the charges.
As publishers begin to experiment with the many ways the digital publishing can increase reader base and offer a value-added experience for existing fans, hopefully more "side stories" such as this one will be released. Streak of Lightning will be available from major digital retailers next month and is available now for pre-order.

Mercy Pilkington is a Senior Editor for Good e-Reader. She is also the CEO and founder of a hybrid publishing and consulting company.