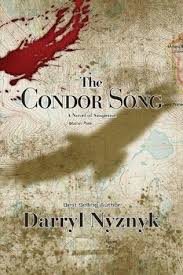 Verdict: 4 Stars
The condor isn't exactly the most charismatic bird. It's not regal-looking like the eagle, it's not an awe-inspiring killing machine like the hawk. It's just a bird. And it's had plenty of controversy around it in terms of legal and environmental battles, and now, it's got blood on its hands, too. Or, wings.
In The Condor Song (Cross Dove Publishing), former attorney Nyznyk brings the legal thriller genre to the wilds with the based-on-reality saga of a lone attorney standing up to not only a legal dream team, but a team made up of his former employers and his former best friend. And why shouldn't he? Sean Donovan has already lost his job at the prestigious firm, his family, and his friends. Sticking his neck out to right the wrongs of society against one species of bird.
While the action and explanations in this very well-written legal drama are excellent, at times the huge cast of characters proved to be a little hard to follow. That is probably very accurate for situations in which environmentalists, environmental lobbyists, businessmen, politicians, and the all-important lawyers ramble through page after page of crucial detail. And while the book is only loosely based on an actual event in which the Disney company, big supporters of Sierra Club, was actually blocked by Sierra Club from building a ski resort in an area that would have destroyed the habitats of endangered animals, there was a ring to it that perhaps this was trying a little too hard to bring new details to light from that former case.
The Condor Song is now available from Amazon. The author will donate one dollar from the sale of each book on July 1st to Sierra Club.
Mercy Pilkington is a Senior Editor for Good e-Reader. She is also the CEO and founder of a hybrid publishing and consulting company.