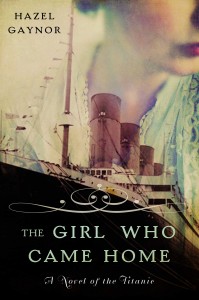 Verdict: 4 Stars
I adore well-done historical fiction, and as a particular favorite category, I never get tired of Titanic stories. There is so much to be said and learned, because essentially the ship carried–and lost–more than 1,500 different stories. It would be a treasure to know them all.
In Gaynor's title, the story of the Titanic is almost a side plot of its own as the real story is of Maggie Murphy's personal loss, not on the ill-fated voyage, but at leaving her real love behind in Ireland. After surviving the disaster, she moves forward in the way that only a young woman of the early twentieth century could: she put it behind her and never spoke of it again.
Interwoven with Murphy's story is that of her own granddaughter, who suffers her own brand of loss seventy years later. Together, they work to heal the hurts of the past by ripping them open and hoping for new enlightenment.
For everywhere that the story was touching and well-written, there were equally important places where the accuracy just wasn't there and the reading level was very middle grade. It was a fun book, even in spite of its fluff, and I was able to concede that there are stockpiles of in-depth, well-researched non-fiction and fiction titles about the Titanic. This one seemed to have the Titanic as more of a backdrop of the book, which is fine if readers aren't expecting James Cameron's level of detail and accuracy.
The Girl Who Came Home is available now.
Mercy Pilkington is a Senior Editor for Good e-Reader. She is also the CEO and founder of a hybrid publishing and consulting company.