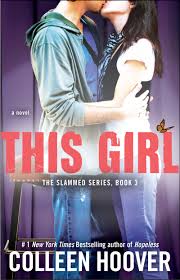 Verdict: 3 Stars
Colleen Hoover's This Girl (Atria) is book three of her Slammed series, a new adult romance that features Will and Layken. In this book, she wraps up the series by retelling the events of book one and two from Will's point of view, artfully giving readers a different viewpoint on events that fans may already know.
This book was a tough one to rate. Taken just on the merits of the writing style and the quirkiness of the format–every other chapter alternates between playing a scene from the Layken and Will's past, and a scene from their present–it was a solid read with a lot of entertainment value. Hoover also very masterfully writes a third book in a series without leaving first-time readers in the dark while also not having to resort to lengthy infodumps to keep new readers up to speed.
Where the book fell apart for me was in the highly implausible subject matter of a love affair between a high school student and her teacher, albeit a student teacher, but one who happens to live across the street and be friends with her mom. Somehow both Layken's best friend and her mother know that the teacher is in love with the girl, but that does absolutely nothing to stop the mother from letting her daughter spend the night at the teacher's house.
Yes. Her eighteen-year-old high school senior spends the night at her hot, male teacher's house, and Mom's only concern is to call over her shoulder to the teacher, "Make sure you sleep on the couch." Of course–spoiler alert–he goes straight into the bedroom and curls up in bed with the girl.
There were a few other disturbing elements in the story. We do learn at the beginning of the book that Layken and Will are married now, something that Will himself wars over throughout the book as he realizes that it is horribly inappropriate for him to date his high school student, and his internal battle is the full knowledge that it is wrong for someone in his position to be in love with a young girl. Also, there are little dropped hints scattered through the book that actually set off alarm bells for me, like the scene in which Will (the teacher) beats up a male student who he sees making out with a willing Layken. He also makes statements such as "ordering" Layken to wear only what he tells her she will wear on their honeymoon, "allowing" her to bring one outfit, the one she happens to be wearing at the time. Sexy? Romantic? No. Creepy? Domineering? Yes.
The stage is nicely set for this to NOT be a romance as Layken's father had died only months before she met Will. It doesn't take a psychology degree to figure out that she falls for her male teacher only months after losing her dad, a story element that is decidedly the opposite of romantic. Will there be a fourth book in which Layken grows up a little bit and realizes she was only transferring her feelings of loss onto the nearest father figure in her life?
But This Girl is certainly a well-written book, even if the subject matter is a little stomach-churning, and it will be a quick read for devoted fans of the New Adult genre, one that is certainly pushing the boundaries of what's considered safe, mainstream story lines. This Girl is available now from ebook and print retailers.
Mercy Pilkington is a Senior Editor for Good e-Reader. She is also the CEO and founder of a hybrid publishing and consulting company.