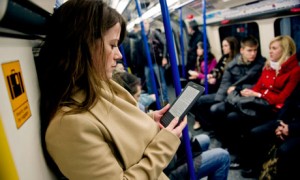 The publishing industry has endured several years' worth of "yes it is, no it isn't" information concerning ebook penetration into the reading market, and formal numbers are finally demonstrating that ebooks are not a fad–while still acknowledging openly that print books aren't going away any time soon either.
So what's behind the rumor mill that ebooks are or are not faring as well as some data suggests?
One thing that supporters and naysayers alike forget to take into account is how the comparison between digital and print was created, as well as what titles affected the figures. It's not enough to look at a number comparison when things like blockbuster titles account for distribution. In the case of Scholastic's publication of Suzanne Collins' wildly successful Hunger Games trilogy, print books should have accounted for a higher percentage of sales, given the prevalence of print over digital in that demographic; at the same time, ebook sales of E.L. James' 50 Shades of Grey trilogy and the anonymity of digital purchases–coupled with the self-publishing numbers from the first go-round–made ebooks seem to be the clear frontrunner.
Around the world, ebooks have told a different story in terms of sales. Russia has only now moved into the third place position behind the US and China, recently edging out the UK. This rise in sales rank seems to be connected to the popularity of a recent ebook piracy counteraction with the launch of LitRes, who made ebook sales popular for the first time within the country.
The smart money all this time, however, has been that there are genres and markets for both print and ebooks, and that different factors will lead consumers to make purchasing decisions of one over the other. Publishers and authors alike would do well to ensure that reading consumers can access both editions in order to make their selections.
Mercy Pilkington is a Senior Editor for Good e-Reader. She is also the CEO and founder of a hybrid publishing and consulting company.