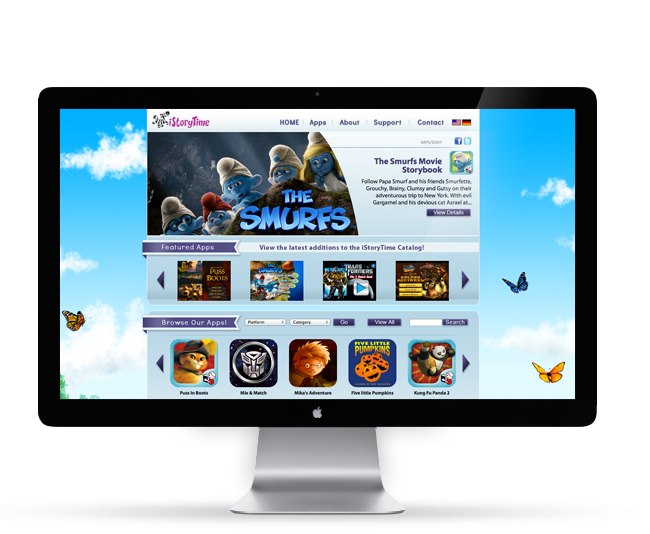 One of the first companies to begin producing high-quality, interactive ebook apps for the little readers among us was zuuka's iStoryTime, who has produced many of the licensed movie adaptations on the market. Through agreements with companies like DreamWorks, iStoryTime has released exciting renderings of storybooks to go with popular titles like Kung Fu Panda, Shrek, Rise of the Guardians, Madagascar, and more.
Throughout the rest of the month, iStoryTime will be giving away free copies of select titles to all users via access codes scattered among app and publishing industry websites around the web. Today's ebook, for example, is Kung Fu Panda Holiday, and the code is only available by visiting smartappsforkids.com.
Of course, Good e-Reader had to get in on the fun, so visitors to the site on December 26th will find the unique code needed to download a free copy of the interactive book Shrek Forever After, based on the final movie in the beloved Shrek series.
A full list of the titles to be given away includes:
12/18 – Kung Fu Panda Holiday
12/19 – Turbo
12/20 – The Smurfs 2
12/21 – Ice Age
12/22 – How to Train a Dragon
12/23 – Rise of the Guardians
12/24 – Arthur Christmas
12/25 – Barney's Storybook Treasury: What Can It Be?
12/26 – Shrek Forever After
12/27 – Meet Biscuit
12/28 – Cloudy with a Chance of Meatballs
This giveaway would be a fantastic opportunity for teachers and librarians to fill their classroom iPads with vetted, high-interest content that contains bonus games, highlighted read-alouds, independent reading, and more.
To find out where the codes will be available, follow iStoryTime on Twitter and Facebook for daily instructions. Once readers have the code for their iOS devices, they will open the book title in iTunes and select it, then tap "Use Storycode" to grab the free ebook.
Mercy Pilkington is a Senior Editor for Good e-Reader. She is also the CEO and founder of a hybrid publishing and consulting company.