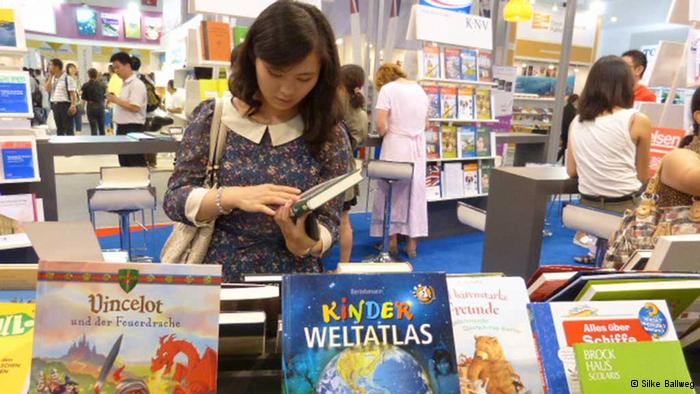 The first Children's Book Fair held in China ran from 7th till 9th November and publishers who had been part of the inaugural edition of the fair report to having made a killing at the event. Publishers had to themselves two days before the fair was thrown open to the public which was marked by hectic activity. This also proved to be a golden opportunity for the publishers from the west and elsewhere in the world to interact directly with the public and their Chinese counterparts, something that they had to rely mostly on agents to get going.
"It has been phenomenal: overwhelming at times. I have been in back–to-back meetings since I arrived. I planned to have 40–50 meetings but I have had about double that. I could have sold rights 10 times over if I was able to," said Andrew Sharp, groups rights and digital director for Hachette Children's Books while speaking to 'The Bookseller'.
"The culture is very much that children read to learn but I have sensed that this fair is trying to get out the message of reading for pleasure," said Sharp saying the focus has been more on fiction and picture books. "What this has really done is given us an opportunity to meet Chinese publishers," Sharp further added.
Abdul Thadha, founder of Leicester-based Sweet Cherry Publishing echoed similar feeling saying: "There was massive interest from librarians who wanted to buy books in different languages, which is a bonus I wasn't expecting. Picture books have been of the main interest. I haven't signed any deals but I have got so many leads that I can't help but think there will be a lot to come from it."
He also added: "I think this show has been absolutely brilliant. Those who have not come have missed out. I did not anticipate there would be this many publishers here . . . on the first day all my slots had gone, there was no time for lunch and I was meeting with publishers back to back. The only thing I would change for next year is to have more distributors here as there doesn't seem to be any and obviously they are important."
The Chinese publishers though weren't as enthusiastic with the results they met, claiming there were less interest in their titles from UK publishers.
This can be made for the words of Zhu Jing, foreign rights manager for Zhejiang Juvenile & Children's Publishing House as revealed to The Bookseller: "We publish about 500 new titles a year, of which around 20% are imports. We do a lot of business with Dorling Kindersley in the UK. We really hope to sell more titles into the UK but right now we don't have much understanding of what the young readers are looking for or interested in. We have been to the London Book Fair, Frankfurt and Bologna and tried different agents to sell titles to the UK but it hasn't been very successful so far."
The first Children's Book Fair held in Shanghai saw attendance of publishers such as Publishers Association, Hachette Children's Books, HarperCollins, Nosy Crow, Top That!, Windmill Books and Brown Bear Books, World of Books, Digital Leaf, Sweet Cherry Publishing and Small World Creations, along with several other from around the world.
Sovan Mandal is the senior tablet and tech corespondent for goodereader.com. He brings a international approach to news that is not just applicable to the North American market, but also Asia, India, Europe and others. Sovy brings his own writing flavor to the website and is interested in Science Fiction, Technology and Writing. Any questions, send an email