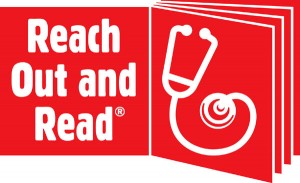 At this weekend's National Book Festival, hosted by the Library of Congress, book distribution and reading awareness organization Reach Out and Read was presented with the David M. Rubenstein Prize for the charity's work to combat illiteracy, especially among low-income and underserved demographics of children. In addition the $150,000 prize, Reach Out and Read had a new surprise today: a donation of one million books from the world's largest children's publisher, Scholastic.
"We believe that literacy is the birthright of every child and the pathway to success in school, and it starts by creating a home library from which children can access and choose books that will set them up for a lifetime of independent reading," said Richard Robinson, Chairman and CEO of Scholastic, in a press release today. "Scholastic has been a longtime supporter of the work Reach Out and Read does to promote early-childhood literacy, and their proven model continues to successfully prescribe reading for all children and their families during their visit to the doctor."
"We know that books build better brains – and a million young brains will be shaped for the future through this incredible donation from Scholastic," continued Reach Out and Read's Executive Director Anne-Marie Fitzgerald. "Scholastic is our oldest and most generous partner, and without their continued commitment, we would not be able to help children grow up to become readers and support parents as their children's first and most important teachers. As Reach Out and Read is poised to begin its 25th year, these books, along with the award from the Library of Congress, will be instrumental in creating a new generation of readers. On behalf of our 12,000 pediatricians and the millions of children we serve nationwide, I thank Scholastic for this tremendous gift."
Reach Out and Read distributes over 6.5 million books each year to low-income families in order to build home libraries of books. The organization also works with health care providers who specialize in children's health to distribute materials and to encourage reading in the home, especially oral reading in order to build word recognition, reading fluency, and to foster family time. The organization has already been proven to be quite effective, as children served by the program typically score several months ahead of their non-served peers in reading.
Mercy Pilkington is a Senior Editor for Good e-Reader. She is also the CEO and founder of a hybrid publishing and consulting company.