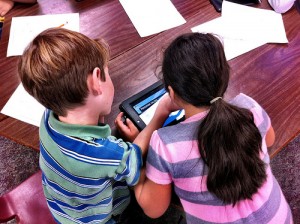 Once the current digital revolution took hold, a future focused on digital reading seemed to be a possibility. The education sphere, to be sure, was eager to embrace the portability, the durability, and–perhaps above all–the cost effectiveness of ebooks. Unfortunately, buying digital editions for public school classrooms isn't as streamlined as it is for the general public.
Many teachers encountered a frustrating truth about ebooks: they weren't books, and they weren't software. The limbo of ebooks meant that many school systems were reluctant to spend money on ebooks, even as teachers unwrapped their shiny new iPads, Kindles, and other devices that were more than capable of supporting e-reading. Essentially, if a "property of" sticker couldn't be placed on it, many schools wouldn't allow state and federal funding to be used for the purchase.
Now, Simon&Schuster has launched a pilot program that will help move forward the process of ebook buying for schools. The program makes several of its most popular children's and middle grade titles available through ebook distributors Booksource, Follett, Mackin Educational Resources, and Perma-Bound, allowing classrooms to purchase a one-year license for the book as many schools already have systems in place to finance software licenses.
"We're pleased to work with these four widely-respected and innovative educational distributors in this first important step toward bringing our catalog to students and teachers," said Michael Selleck, Executive Vice President, Sales and Marketing, Simon & Schuster, Inc, in a press release. "As more and more in-classroom and take-home reading takes place online and via eBook readers and tablets, publishers can help create future generations of readers and contribute to the health of our nation's educational system by providing books in the formats that schools need to help students learn."
This agreement with the distributors will also mean that PC-based reading is more available to classrooms, especially those with limited access to tablet devices. Some of the titles included in the pilot are CLICK, CLACK, MOO: COWS THAT TYPE by Doreen Cronin and illustrated by Betsy Lewin, HATCHET by Gary Paulsen, OUT OF MY MIND by Sharon Draper, FAHRENHEIT 451 by Ray Bradbury, ANGELA'S ASHES by Frank McCourt and FOR WHOM THE BELL TOLLS by Ernest Hemingway.
Mercy Pilkington is a Senior Editor for Good e-Reader. She is also the CEO and founder of a hybrid publishing and consulting company.