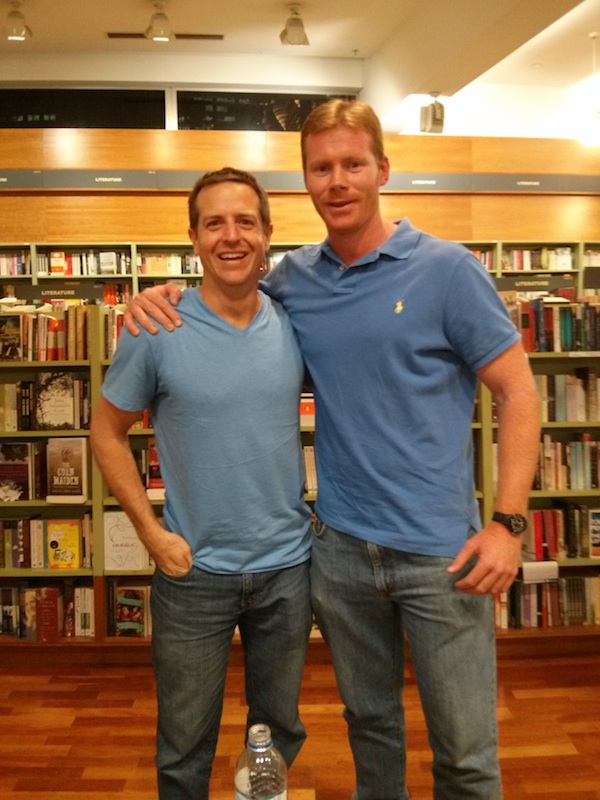 Ludicrous accusations have come out from various corners of the publishing industry, some of which are rabidly anti-Amazon and anti-self-publishing, claiming that the information in the notorious Author Earnings reports is flawed at best, and intentionally misleading at worst. The reports, which claim to only be interested in helping all authors make sound decisions based on a clear look at ebook sales data, are updated quarterly with different facets of bookselling.
Some of these allegations state that the "data is beyond bad," and even well-known figures in the industry have called into question the very existence of the so-called Data Guy who assembles the numbers. Phillip Jones, editor of The Bookseller, was quoted in an article for The Guardian as saying, "The fact that we don't know who this 'Data Guy' is or where he's come from suggest that we should take the Author Earnings report with a large pinch of salt."
Hugh Howey, bestselling author and much of the driving force behind the Author Earnings report, spoke with Good e-Reader about some of the accusations that have been hurled at the reports and their creators.
"Amazon might be surprised at how much writers love having access to information," Howey explained in the interview. "They have to be good businesspeople. We're curious about what works, so the more we can provide information, the better."
One key point Howey made in reference to Amazon's new pricing tool, KDP Pricing Support, is this: "While Amazon's been fighting with publishers to get ebook prices down, I also think that a lot of self-published authors aren't pricing their books high enough. What Amazon wants is to sell as many books as possible, and that means finding the most efficient price between where traditionally published authors and self-published authors price their books."
But how does this wealth of information translate into arming authors with data?
"In all the punditry, there's a lot of analysis of the book industry and it's all focused on gross dollars: how much are bookstores making, how much are publishers making? But if authors are making a very small cut of a lot of those numbers, how is it helping authors to know the percentage of those dollars that are in print? That's why we chose [Author Earnings] for the name of our website, because we wanted to focus on, 'How much are the artists getting paid?'"
The site itself has had more than 100,000 unique visitors just in the six months the site has been in operation, which is fairly astounding considering the parties involved haven't incorporated any promotional tactics other than basic social media sharing of the reports. It demonstrates a clear desire on the part of involved individuals to know more and to see clear data.
That data has been called into question, though, often by sources who see it as faulty but haven't really explained why other than the argument that Author Earnings' reports are free to the public and some companies charge for their data, causing some critics to wonder how thorough and accurate this information can be. Howey's explanation of the information almost seems too simple, even to him, but it involves a tremendous amount of number crunching of the available data.
"If you believe that Amazon ranks books according to how well they're selling, then there's no flaw you could find with what we're doing. We're doing what you could do with a pencil and a web browser. Anybody could go through all these web pages for all the books and write down on a spreadsheet what the list price is, who published the book, and what its overall Amazon ranking is. With that information, you could figure out, okay, if a third of these books are self-published and only forty percent are traditionally published, and you do that for 120,000 books, that's incredible. And we know that self-published authors are making seventy percent and traditionally published authors are making seventeen and a half percent, so even though the price for self-published books is lower it's more than made up for by the royalty. The reason you haven't seen anyone tear the methodology apart is because there's nothing to it. It's as simple as counting books on the bestsellers' lists."
Howey mentioned that the launch of Kindle Unlimited could have an impact on future reports, since there may be a need to correct for the fact that KU borrows are counted in the bestseller rankings. Given the fact that the book has to reach ten percent consumption on the part of the reader to even count as a "sale" or "borrow" for royalty purposes, it would be logical to think that a KU borrow would serve much the same purpose as a typical book sale for ranking purposes.
While Howey was not willing to "out" Data Guy or state the person or persons' identity, he did assure outright the veracity of Data Guy's status as a human being, and not some generic algorithm that spits out questionable information.
"What's been funny is that we use the singular masculine pronoun because that's what one blogger called my partner. It's funny because it could be three other people working on this, it could be a company that I'm hiring, it could be a woman. My mom was a math teacher. The bias about who's good at spreadsheets is funny.
"I've provided the data to download. Everyone wants to know what's going on with Amazon, and our last data report was 120,000 titles. Every ranked book on Amazon has all the information right there if you want to go through and do some additional crunching on it. You can't crunch it and come up with any other result than self-published authors are taking this huge chunk of income from writers' market share. You can play with the variables all you want and it does not change the outcome."
Despite rumors that circulated–and even a few sarcastic remarks–Howey would not name Data Guy specifically due to the fact that authors are prohibited by terms of service from openly sharing their sales figures. He and the other parties involved in creating Author Earnings stood a very real chance of violating those terms, and as Howey himself stated, he worried about pressing publish on the website and finding all of his books removed from Amazon the very next day.
"I'm not going to out the person unless they want to be outed."
Mercy Pilkington is a Senior Editor for Good e-Reader. She is also the CEO and founder of a hybrid publishing and consulting company.