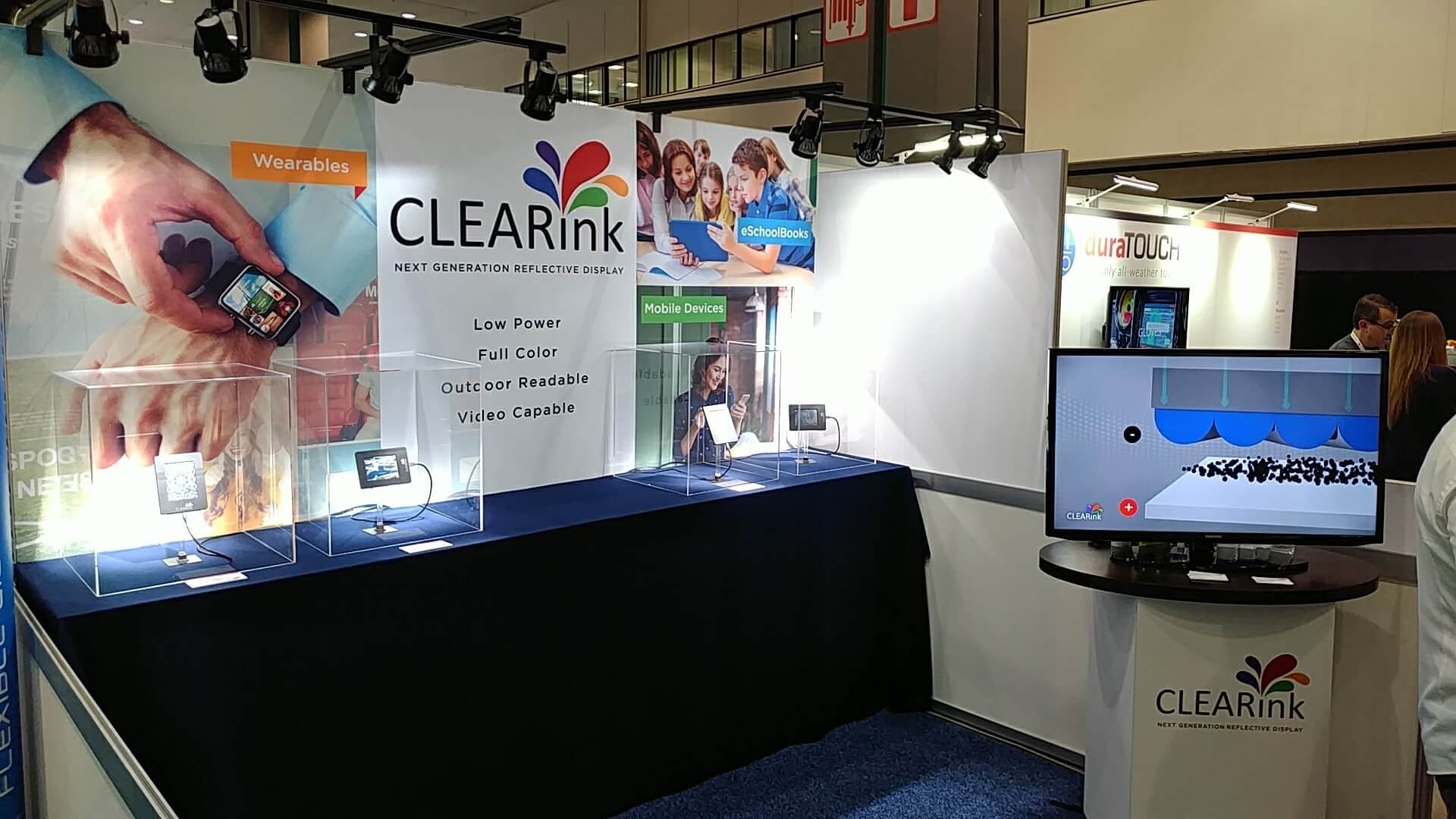 Clearink was recently sold to a number of investors and their entire operation is shifting over to China. Some of the old management will continue to an executive capacity, but it doesn't look like we are closer to a commercially viable product, despite Clearink getting millions of dollars in orders placed. Today, the Clearink website is down. It looks like the domain is still valid until 2022, so it looks like they did not pay their hosting bill, are moving it to another provider or something else.
Clearink is one of the mythical unicorns of the e-paper world. They have been developing their technology for almost ten years. There most recent prototype have achieved 200 ppi with better contrast. Its 9.7″ panel has achieved 16:1 contrast for color and 20:1 for monochrome. Color gamut has been pushed to 19% of NTSC. The drive and hold voltages had been reduced to 3V to drive and 1V to hold. This reduces power consumption.
They have been pushing color e-paper 2.0 for the past few years and won best in show at CES in 2017. It looked like we would see a released product in 2019, when Lenovo become an investor and had a seat on the board, but it never materialized.
A company the size of Clearink, who has generated tens of millions of dollars in various funding rounds and has been sold for millions to investors, you would figure they would have better server infrastructure in place. There is no reason for a website to be down in 2020, when they could easily setup a fail over server. Good e-Reader has this kind of technology in place, just so we experience no downtime. If our system recognizes that the Good e-Reader server is down, or elements, say MYSQL, traffic is automatically rerouted to a different server, using the same domain and all of our files and databases. Users would never know they are being rerouted, but it the type of thing that we feel is important. Not to mention our website is always speedy thanks to Litespeed Cache, which caches all of our CSS, Javascript. Our images are converted to WEBP, so PNG and JPEG files are 75% smaller, without losing quality. We also run Securi, which puts our entire network of sites behind a firewall, to help filter out bad bots, attacks. The real value though, is leveraging the Anycast network, which has super servers in 12 different countries with mirrored copies of our site, so our main server never slammed with traffic from hundreds of different countries at once. We are not a big company by any means, but we have robust infrastructure in place to boost performance and security.
I know companies smaller than us, that even have clusters setup, where they have multiple versions of their website on different servers in a slew of countries. Some even do this, but have their databases on other servers, so their main website and database are never on a single box. Bigger media networks like the Verge and Engadget do this. I mean if Clearink was smart they would at least host their website in an S3 bucket, a database with RDS, DNS with Route53 and old images and files with Glacier. Doing this purely with Amazon AWS would result in literary no downtime and would prevent a single server from going down, because a credit card expired or someone forget to pay the hosting.
Do you think Clearink is done? They have released varying screen sizes, prototypes of watches, 9.7 inch color e-paper displays and nothing clicked. Last I heard, they were trying to target the educational sector. That is a lot of pivots in just a few years. Will someone ever release a final product using Clearink? It remains to be seen, but we are years away from it happening.

Michael Kozlowski is the Editor in Chief of Good e-Reader. He has been writing about audiobooks and e-readers for the past ten years. His articles have been picked up by major and local news sources and websites such as the CBC, CNET, Engadget, Huffington Post and the New York Times.