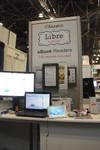 In a market that is overrun with e-reader devices—there are over forty different e-reader product reviews on GoodEReader.com and more than twenty previews for future e-readers, not to mention the e-reading capable tablets and phones—Aluratek has found its niche in being a one-stop location that meets the electronic needs of a wider market. So in light of the competition from retailers who only focus their product design technology on e-readers, can a company with more than twelve vastly different types of products in its assembly really keep up?
If their presence at BookExpo America and its Digital Zone is any indication, they seem to think so. Aluratek brought its four different Libre e-readers to the exhibition hall and was on hand to explain the benefits of each one.
While this year's Expo saw a return to the simplicity of the e-reader device concept with major companies recognizing that some consumers just want to read a book, Alurtek has already been a provider for the different desires of its reading consumers by offering scaled down inexpensive devices through top-notch machines with downloadable features.
With four very different e-readers in their catalog to choose from, they have a design for every type of reading consumer. From the economically priced low-end Libre PRO, which doesn't sacrifice features like eye-friendly e-paper LCD technology, over 100 pre-loaded public domain classics, and an installed music player, to their upper scale Libre Touch that boasts full color, wifi, and touch screen user interface, Aluratek has made a name for itself by offering choices to its market base.
So how does Aluratek plan to not get lost in the crowd of the e-reader market? Admittedly, they don't have the advertising base that Kindle and Nook enjoy, and their platform is limited to epub files, which they recommend acquiring through Kobo content, Google Bookstore, and the Gutenberg Project. The key to their success is going to lie in not trying to compete with other devices, but in offering users something different.
The lower priced Libre PRO doesn't even have wi-fi, instead requiring its users to connect via USB port in order to download content, a design feature which may not matter to a lot of readers since chances are fairly good that an e-reader owner probably has access to an internet capable computer. The device does offer an SD card reader, so content can be swapped from one device to another or from a computer to the device. The Libre Touch, with its $149 price tag, offers a lot of the features users would find on tablet PCs that can cost twice as much, such as web browser, access to social media, movie download capability, and more. The Libre Air with its wi-fi and Libre Color that seems perfect for reading children's books fit nicely between those two ends of the Aluratek device spectrum, with price points and features to match.
Mercy Pilkington is a Senior Editor for Good e-Reader. She is also the CEO and founder of a hybrid publishing and consulting company.