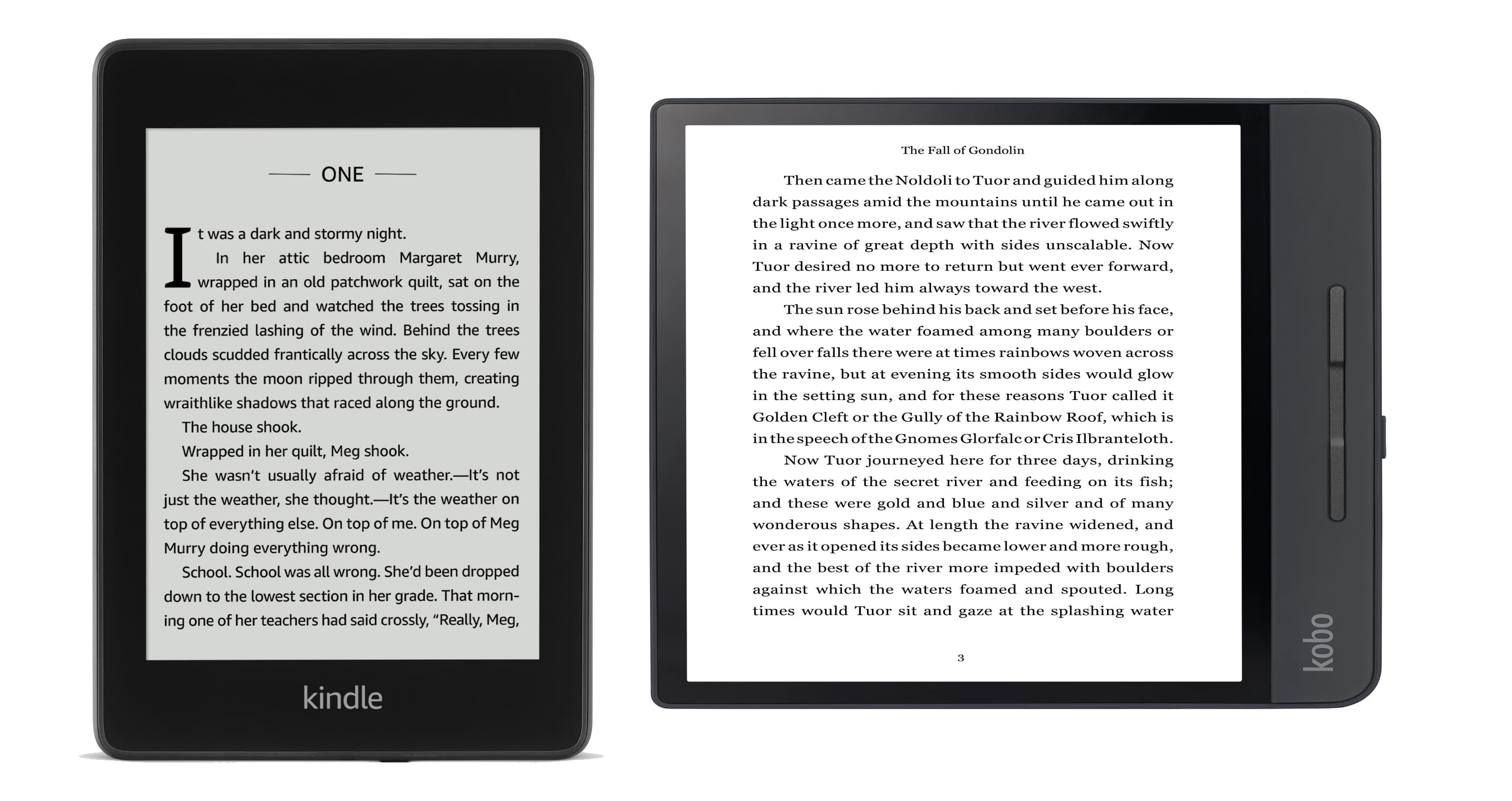 E-reader enthusiasts are torn whether or not they should purchase the Kindle Paperwhite 4 or the Kobo Forma. These e-readers represent the two latest entrants to the market and they provide vastly different user experiences.
Amazon and Kobo are the two largest companies in the world that continue to release new models every year and compete heavily against each other. Amazon has the advantage of having a larger digital bookstore, primarily due to the self-publishing division of Kindle Direct Publishing. Amazon controls 75% of all ebook sales in the US and almost 95% in the United Kingdom. Amazon offers a heavily curated experience with Charts, and their normal bestseller lists are updated all of the time. No matter what country you live in, you will get recommended books that local authors have written or big name titles you need to know about. Amazon Kindle Unlimited is a subscription program, the amount of content is not really that great, major publishers have not really gotten onboard yet. Kindle Freetime is also a compelling value proposition if you have kids and numerous Kindles in the household.
The Kindle Paperwhite 4 is user friendly and not overly complicated. It is quite easy for a new user to understand how to buy books and audiobooks. This e-reader has a standard six inch screen so ebooks look great, comics and manga sometimes suffer because of the limited amount of screen real estate. Some people are digging the waterproof nature and the ability to listen to Audible audiobooks, Kobo also has an audiobook store, but they have not included any functionality in any of their e-readers, it is only available in their apps.
The Kobo Forma is much more expensive than the Paperwhite, it costs around $299, whereas the new Paperwhite is 129. One of the reasons why the Forma costs more is the hardware and software experience. The Forma has a giant 8 inch screen and it really shines when reading ebooks, manga and comic books. Overdrive is available on the Kobo, in any country where Overdrive operates. You can enter your library card in the settings menu and browse your local collection. You can checkout and read ebooks right on the device. Amazon has limited Overdrive support in the United States only and you have to use the libraries website and deliver it your Kindle, obviously Kobo provides a better experience.
Kobo appeals to more advanced users who want more flexibility and customization features for their fonts and font type via a slider bar. There are plenty of super advanced features to control the weight and boldness, with a before and after image, so you can negate any changes before they are applied. Amazon can only sideload in fonts, but there is limited documentation on how to do this, and you need to have the device updated to the latest firmware.
The Forma like the Kindle is waterproof, but Kobo has the advantage of having a color temperature system that helps mute the bright front-lit display, into varying degrees of orange. Amazon is one of the only companies that has yet to include this type of lighting system into any Kindle model.
Choosing what e-reader is best for your needs, depends on what you are looking for in an e-reader. The prices of ebooks are relatively the same across both ecosystems, and the same goes with comics and manga. Do you want a bigger screen, with more advantages options, a better front-lit display and manual page turn buttons? I would say go with the Kindle. If you would rather spend more money on ebooks and get something with tremendous value, it is hard to go wrong with the new Paperwhite.

Michael Kozlowski has been writing about audiobooks and e-readers for the past twelve years. His articles have been picked up by major and local news sources and websites such as the CBC, CNET, Engadget, Huffington Post and the New York Times. He Lives in Vancouver, British Columbia, Canada.